First UMC Denton Members Recount Courts and Ports Trip

Experiencing first-hand interaction with asylum seekers 'transformational'
Cynthia Rives, team leader Molly Tampke, and four other members of First UMC Denton took part in a Courts and Ports mission trip to the Brownsville area conducted by Texas Impact. Read Rives' account of the trip below along with thoughts from other attendees.
This trip included opportunities to observe the court proceedings of asylum seekers (Courts) and a journey into Mexico through the port of entry between Brownsville and Matamoros, Mexico, to visit with asylum seekers waiting for an opportunity to present themselves to officials to ask for asylum (Ports). It was a transformational experience that brought all of us into personal contact with asylum seekers on both the U.S. side and the Mexico side of the border.
The first day we broke up into pairs and took turns observing in the courts, volunteering at the respite center and helping at the bus station.
Our job while observing in the federal court was to report to the American Civil Liberties Union (ACLU) how many defendants were in court and any notable activity that occurred. Being in the court was a powerful experience and helped us understand the significance of these trials.
"I think I'll always remember those 37 people standing in shackles, with chains around their waists, handcuffs and feet, facing the judge in silence for a misdemeanor charge," said team member Pam Hancock.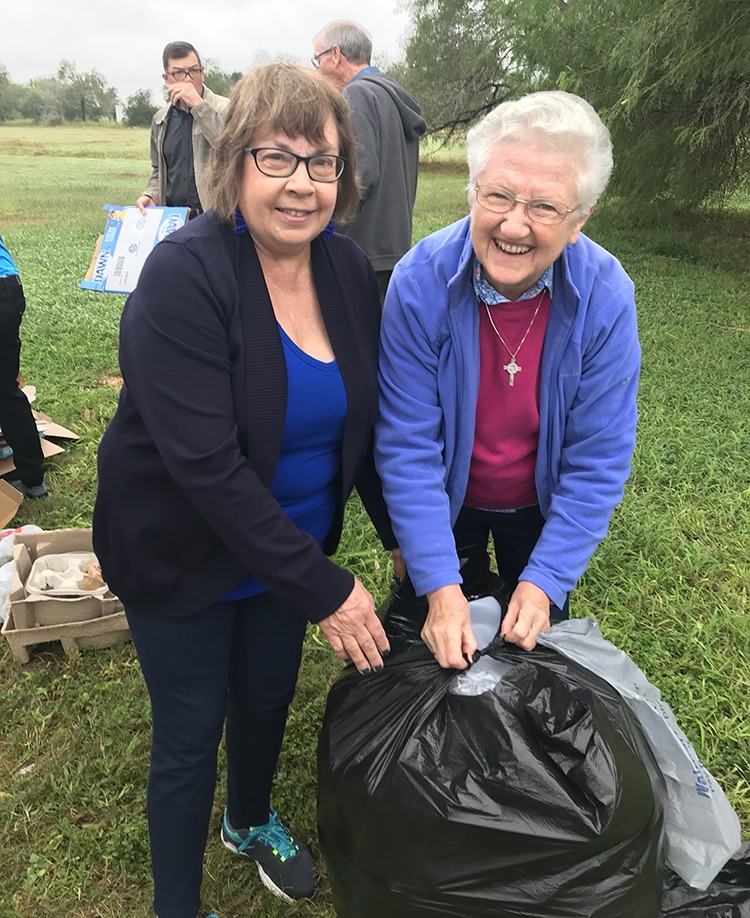 Working with our friends at La Posada Providencia, a respite center for asylum seekers run by three Catholic nuns (all of whom are in their 80s) was a joy! The sisters certainly keep us from complaining about being too old for this kind of mission. La Posada helps the asylum seekers (who are dropped off at all hours) find rest, safety, love and direction on the road to a new life in this country. We helped prepare the recycles for pick up, took the wash to a laundromat on a cold and rainy day so it could be dried, repaired the weed eaters, among other tasks. But the most important thing we did while at La Posada was to listen to the stories of the asylum seekers. It is truly amazing to hear the harrowing stories of how they made their long journey and why they are here.
We also helped at the bus station in McAllen, where hundreds of families are dropped off by ICE with bus tickets they received from Catholic Charities so they can travel to a destination somewhere in the United States. We saw those bewildered-but-hopeful faces come into the bus station ready to head out across the nation. Each family had a big envelope with a paper sign taped to the outside that read, "I don't speak English. Please help me find my bus."
We worked with "Angry Tias and Abuelas," a volunteer group helping travelers get to their destinations safely. Having very little Spanish, my job was to help by showing the people a map of the US and highlighting their route noting where they were to change buses. Most people were heading to family already in the U.S. I can still see the face of a teenage girl smiling at me with such earnest hope. I pray for her and those she meets along the way. May she continue to shine with joy and may she see Christ in all who greet her as they see Christ in her.
---
A list of persons who have experienced Courts and Ports and are happy to be a resource for others who are interested:
Rev. Laura Echols-Richter, Grace Avenue UMC

Rev. Patty Froehlich, First UMC McKinney

Rev. Ann Willet and Rev. Holly Bandel, First UMC Dallas

Dee Weaver, First UMC Richardson

Rev. Mitchell Boone, White Rock UMC

Rev. Mary Miriti, Oasis Global Fellowship

Rev. Jamie Nelson, Agape Memorial UMC
---
We had many opportunities to learn about the many aspects of the situation at the border through session with Proyecto Azteca's Ann Cass and the ACLU's Michael Seifert. We also toured the Good Neighbor Settlement House, a community center supported by United Methodist Women in Brownsville who has begun feeding and housing asylum seekers and helping them get to the bus station.
On our last full day, we crossed into Mexico to visit with people who are waiting for their turn to present themselves for asylum. United Methodist Deaconess Cindy Johnson took us to where asylum seekers camp out and introduced us to those gathered. Then, we went to buy rice and beans from a nearby restaurant so they could enjoy a hot meal. While at the bridge, we saw U.S. troops string razor wire on the roof of the walk way canopy; wire already was spread along the fence and road. The wire looked like shiny Christmas garland being strung over everything, but a closer look showed the sharp edge sparkling … but not with the message of "Peace on earth. Good will to all."
The immigration issues are complex -- so much so that we left with as many questions as answers we'd received. It emphasized, for me, the critical importance for mission work around the world and the important role we can play in this as citizens of our flawed but great nation. While this trip has ended, it is just the beginning of a renewed sense of purpose, a better understanding and a hunger to do my part to make this world better for all people.
I encourage every congregation to participate in this Court and Ports program. The teams are small, no more than eight. Of course, if you want to take a bigger group, please email Erica Nelson at Texas Impact. There are many ways to go. Teams can drive in cars, a van or fly. Our team had some fly and some drive. You can stay in a variety of hotels depending on how much you want to pay, or look for a church that will let you sleep on the floor. Just be creative on how you get your church family involved. Send one team or many teams! Be with the people and see what is happening and how your congregation can be Christ to the stranger and to those who are helping the most vulnerable. Come to the border!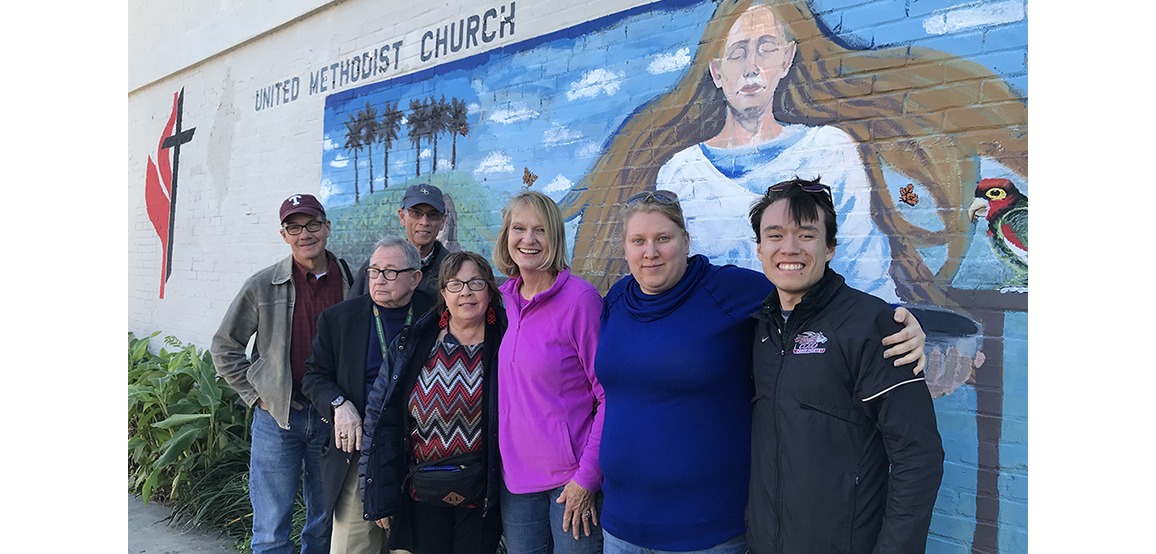 Rives' travel mates share their experiences:
Heidi Tracy: "Four days after returning from our time at the border cities, my thoughts are still preoccupied with the faces, names and circumstances of the people we met. Individuals and families from Asia, Africa and Central America, who had spent months at great peril to travel to the United States in hopes of a better life. One man from Cameroon had flown to Peru and then made his way on foot to the border. He was waiting at a camp in Matamoros for his turn to present himself to Border Patrol. I grieve for how I imagine they were treated that caused them to leave everyone and everything they knew behind, and also for how they may have been treated upon entry. I fear for the uncertainty ahead of them, but offered a smile, encouragement and gave them information about changing buses as best as I could with my limited Spanish. Some would be traveling for two full days changing buses as many as four times before arriving at their final destinations."
Mike White: "The needs and issues on the border are many, complex and varied and are not easily understood nor easily remedied. One of the main problems with the situation there at this time is that the process for dealing with people wishing to enter the U.S. is not transparent and the government is intent on keeping it that way. It appears that the role we, as concerned Americans, can play there is to be present and to help in whatever way we can to ease some of the suffering and fear being experienced by people seeking asylum in the United States. We should continue to bolster the support that currently exists at the border and to educate as many people as possible about the needs and issues that need to be addressed."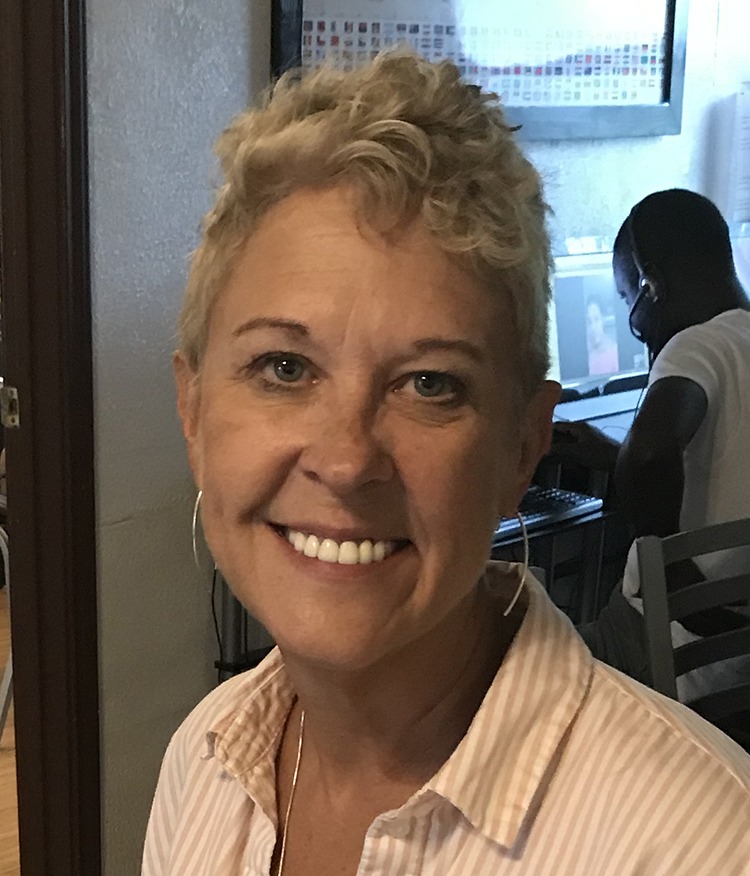 Molly Tampke: "When I stepped into Catholic Charities' Respite Center, I was certainly struck by all the people and by its apparent chaos. But I also was struck by the thought that I was getting a glimpse of The Kingdom on earth: Perhaps chaotic, perhaps poorly lit and even a bit grimy, but filled with a multitude of
people helping each other along their lives' journeys. Certainly, those tired, perhaps scared people have helped me on my life's journey."
Dale Tampke: "I was struck by the contrasts: the hopelessness of an overburdened court system and the optimism of a young asylum-seeker learning to drive; the order and discipline of the military unit hanging concertina wire and the chaos of bus station departures; the routine, everyday life of many folks in the Valley and the desperation driving people to cross over. Human kindness matters and helps make sense of the contrasts. I hope to return soon."
Published: Friday, December 14, 2018