Finding The Perfect Fit At The Right Price

Annual Prom Closet at St. Andrew UMC outfits attendees from head to toe – for free
Feb. 26th Update: The Prom Closet had 1,273 shoppers from 247 schools. A majority of shoppers were from Texas, however, nine were from out-of-state (Oklahoma or New York).
These days, costs to attend prom can be more than tickets to the event for students. Add into the mix expenses to purchase attire and accessories, and the price can easily eclipse hundreds of dollars – money some families simply don't have to spend.
Twelve years ago, St. Andrew United Methodist Women created Prom Closet, a unique shopping experience that offers prom dresses and accessories at no cost to high school girls. This year's event started Feb. 18, and continues Feb. 19-20 (4 to 8 p.m.) and Feb. 22 (9 a.m. to noon).
Volunteers see the impact of their hard work.
"I work with Prom Closet because of the joy it brings to each girl shopping for her ideal dress and accessories as well as the joy it brings to her mom, dad or other special person shopping with her," volunteer Nancy Adams said .
The number of dresses distributed has grown from 35 in the first year to 1,339 dresses in 2019. This year, the Prom Closet has more than 4,000 dresses looking for a new home.

The dresses and accessories – jewelry, shoes and purses – are donated by individuals, local groups and businesses.
Dresses and shoes come in a variety of sizes and colors. Dress sizes range from 0 to 28 and shoes range in size from children's 3 to adult 12.
"You can tell that the girls feel such a boost of confidence and empowerment when they put together the perfect prom attire," Adams said. "It is a magical time, and it's incredibly rewarding to each of us who can contribute in some way."
Girls come with family members, mentors and peers to shop for dresses. One mom, Courtney Smithey, came with her daughter Shadow last year.
"I am coming to terms with the fact that my daughter is growing up, and this may be the last big event," Smithey said. "It will be fun to watch her transform from an everyday kid into a princess for one night."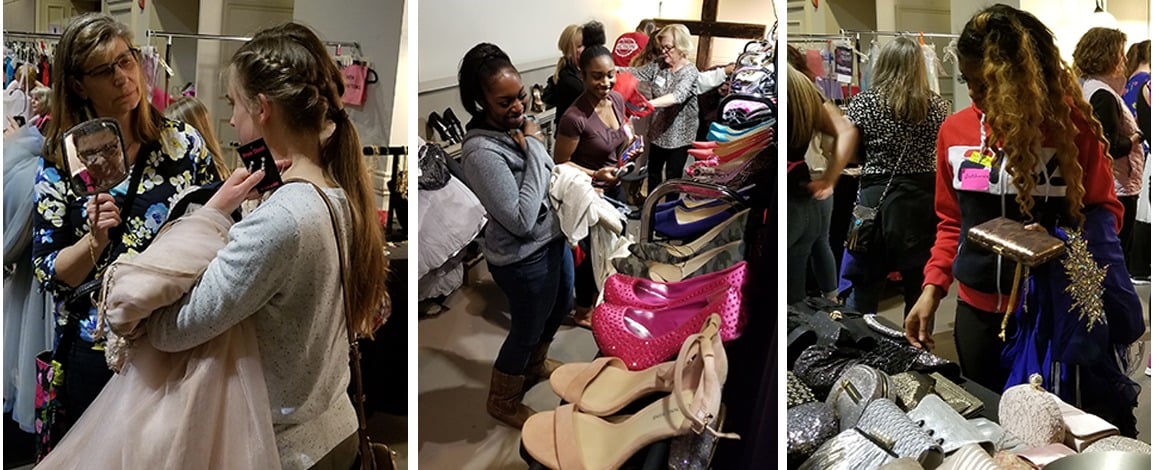 Dresses, however, don't have to be just for prom.
Franklin D. Roosevelt High School in Dallas has a military ball each year for its Junior ROTC program. First Sgt. Charles Paige brought girls in 2019 to shop for dresses. Some of the girls would not be able to attend if it weren't for the Prom Closet.
"It energizes me as a teacher. This is not just a job for me, it's a commitment," Sgt. Paige said. "Prom Closet has had a major impact on motivating our cadets to attend the ball. It's fun to shop for dresses without a price."
For volunteers, the girls are not the only ones that see the benefit. The whole family is impacted by this ministry.
"For me, it's just as much about the parents as the girls, so many times mothers have cried saying they just didn't know how they would have been able to afford to send their daughter to prom," volunteer Laura Stengle said. "There is nothing better than seeing that kind of joy."
Published: Wednesday, February 19, 2020