Film Screening Offers Hope, Help for Preventing Suicide
Tell My Story is a grieving father's search for answers and what he finds: painful truths about the lives of teens, the impact of unfettered access to social media and the rise of depression
For Rev. Kenny Dickson, there is power in film. The mission of his extension ministry, Cross Roads Faith and Film, is to promote secular films that have a message that our churches need to hear.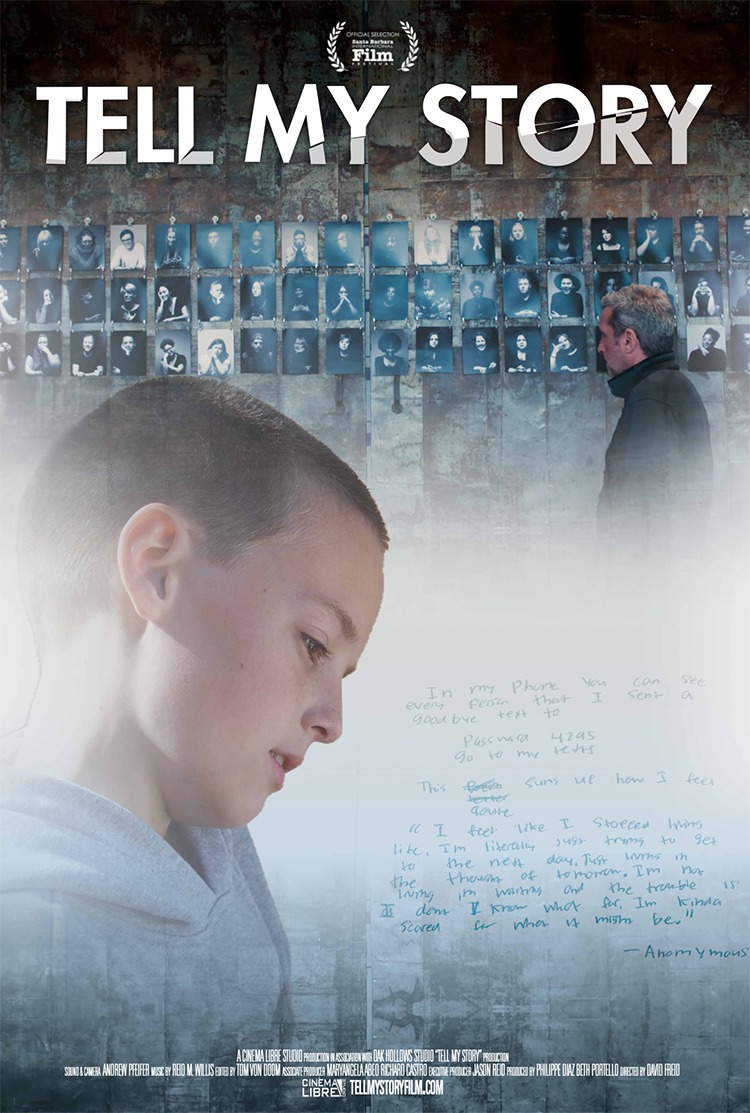 "Two of the most important and influential elements in society are faith and culture," Rev. Dickson said. "Common to each of these elements is story. At the root of every faith is story. Story is at the center of film and other cultural art forms."
Just as Jesus used parables to teach complex theological truth and increase discipleship in followers, Cross Roads Faith and Film understands that secular as well as faith-specific films can be important tools in introducing and increasing faith as well as growing individual and corporate discipleship.
Cross Roads' most recent project is focused on helping churches set up screenings of a new documentary as part of the North Texas Conference's Mental Wellness initiative.
Tell My Story documents Jason Reid's determination to fulfill his son Ryan's request, that Jason tell Ryan's story. Ryan committed suicide at 14 after struggling with depression. His parents and family did not recognize Ryan was in crisis. In order to tell Ryan's story, Jason seeks out information on youth depression and suicide from youth as well counselors, crisis centers and psychiatrists.
Tell My Story seeks to create awareness for parents and those who work with children and youth about depression and suicidal thoughts among children and youth and equip them to recognize and respond to the struggles their children or others may face.
"It's important to me that we do this in a communal setting," Rev. Dickson said. He is also encouraging churches to host a conversation after the film facilitated by a mental health professional or at minimum to have someone from the mental health field present as a resource at the event.
The first screening of the film took place Oct. 24 at Christ UMC in Farmers Branch.
After the film, there was a discussion led by a staff member from the Suicide and Crisis Center of North Texas as well as a church member who serves as a crisis counselor for the Carrollton-Farmers Branch school district. The Q&A allowed those in attendance to ask questions and get a clear picture of the depth of the problem within their community.
"One of the people that attended mentioned that hearing from the suicide survivors gave great insight," said Amy Ruppensberg, the church's Director of Children's Ministry. "They spoke about how when they went to church, they were told to love God and to love others but not how to love themselves."
Ruppensberg recognizes the role churches can play in helping decrease isolation and supporting people who are struggling.
"I know that as a church we can be a resource for our community if we can understand and support those children/youth that are struggling and support the parents of children/youth that are struggling," she said. "You can't make all problems better by telling people to pray about it. You need to be there to listen, not to fix.
"The awareness of what kids are going through should help us be more aware of their feelings and remind us to dig deeper into how they are feeling. We will continue to be the hands and feet of Christ, to share God's Love and show kindness to all."
Hosting a film screening of Tell My Story is an important way that churches can be in conversation with their communities about mental health and suicide, to help reduce the stigma and talking openly about these important issues impacting our youth and families.
There are additional screenings scheduled for 2021 with ample room to get other churches on the schedule in 2022. Upcoming Tell My Story events include:
Floral Heights UMC in Wichita Falls at 6 p.m. Tuesday, Nov. 16, followed by a Q&A facilitated by Denise French of the Helen Farabee Center
Creekwood UMC in Allen at 4 p.m. Sunday, Dec. 5, followed by a Q&A
Other churches are making plans to host screenings in 2022
The cost is $220 for the licensing to show the film, and groups may take up love offerings to defray the cost but cannot charge admission. If your church or organization would like to host a screening of Tell My Story, email Rev. Dickson.
To learn more about the NTC's Mental Wellness initiatives, email Rev. Andrew Fiser in the Center for Missional Outreach.
Published: Wednesday, October 27, 2021