Experts Offer Practical Advice in Annual Conference Toolbox Sessions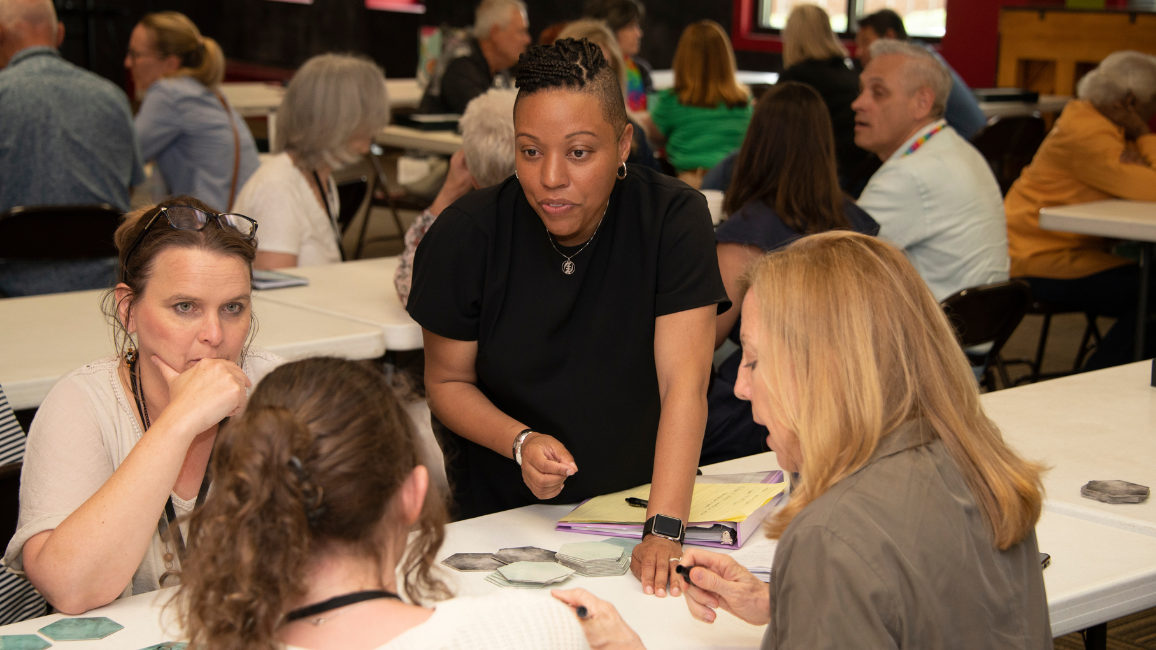 Topics included ministry with Gen Z and strategies for conflict resolution, among others
Toolbox sessions returned to Annual Conference this year, equipping participants – laity and clergy alike – with resources, ideas, and tools to put immediately to use in their local contexts.
One highlight of the toolbox sessions was "Ministry with New Generations" offered by the conference's keynote presenters, Trey Wince and Aqueelah Ligonde of Ministry Incubators. They walked small groups through an exercise identifying a key issue that younger generations face and the ripple effects that spread out from that precipitating issue. Then groups brainstormed specific ways the church could create a different kind of ripple effect to positively impact the lives of youth and young adults. The Ripple Effect process moved quickly and led to lively discussion.
"We only give a very short amount of time for each part of this because it helps you not get stuck on all the obstacles but instead hone in on what your church can really do to support young people," Wince noted.
In another space nearby, 45 participants listened and engaged as Dr. Lisa Hancock sought to remove the stigma from conflict in churches.
"Conflict in churches brings shame," she said. "Christians are told to turn the other cheek, that makes it more difficult to deal with conflict. But if you don't take care of it, it grows into a wildfire."
Hancock's "Understanding, Navigating and Dealing with Conflict" toolbox session explained that managing conflict effectively is all about understanding perception and the action churches take or don't take to address the problem.
Hancock outlined a peacemaker toolkit every leader should have to deal effectively with conflict. Among the items in the toolkit are:
Process over progress: "Progress is subjective," Hancock said. "Process is a safe space to talk about differences."

Clear up any perceptual differences in three steps: Describe the behavior you are observing, name at least two interpretations and ask for clarification.

Listen to understand rather than respond.
Hancock encouraged lay members to become conflict resolution leaders in their churches.
"Conflict is inevitable," she said. "If we have one person in each church with a peacemaker tool kit, you will make your pastor's life easier."
Kenneth Wolverton likewise equipped church members and pastors with important tools to meet the needs of today's current reality. In his toolbox session on "Church Leadership in the New Reality," Wolverton noted that every person has a role to play in advancing Jesus' mission in the world and encouraged participants to discover the intersection of their gifts, passions, interests and experience as the place God calls them to be and to serve.
While outlining the new reality churches face in 2023 and beyond, Wolverton eased anxieties and noted the need for hope and fresh energy as they look to the future.
"Change and innovation must become the norm in our churches in order to be important in our communities" he said. "We don't need to fear the future, we need to embrace it."
Published: Tuesday, June 20, 2023