East District Recognized With One Matters Award

Marked increase in baptisms, professions of faith earn honor from Discipleship Ministries
Since 2015, the One Matters Discipleship Award is given in partnership with annual conferences and The United Methodist Church's Discipleship Ministries. The award recognizes churches that increased from zero baptisms and professions of faith to at least one through intentional discipleship. Recipients receive a plaque and $1,000 to continue discipleship.
This year, the One Matters Discipleship Award was presented to the East District under the leadership of Rev. Vic Casad. Overall, churches in the East District increased their professions of faith more than 30 percent from 2017 to 2018. Rev. Cammy Gaston, director of the Center for Leadership Development, didn't want that achievement to be overlooked.
"I nominated the whole East District because they made an impact together," Rev. Gaston said. "It wasn't so much one church carried the increase in professions of faith, but 22 churches proved 'one mattered.' "
What makes the growth even more impressive is that the East District population is not growing as much as other areas of North Texas.
"We were very appreciative to the Center for Leadership Development for recognizing us as a district for this award," said Rev. Vic Casad, superintendent of the East District.
Moral was low at First UMC Winnsboro when Rev. Debbie Lyons took over in 2017 upon the death of the previous pastor. During her initial meetings with members, they expressed a desire to grow. Her first action was to reach out to the community.
"I immediately introduced myself to the city manager and mayor and offered to lead a prayer at our monthly City Council Meetings," Rev. Lyons said.
She became active in the Winnsboro Cultural Arts Center, worked with the City Council and school district. She credits the congregation for the seven new professions of faith, and said they weren't afraid to create new relationships and try new things.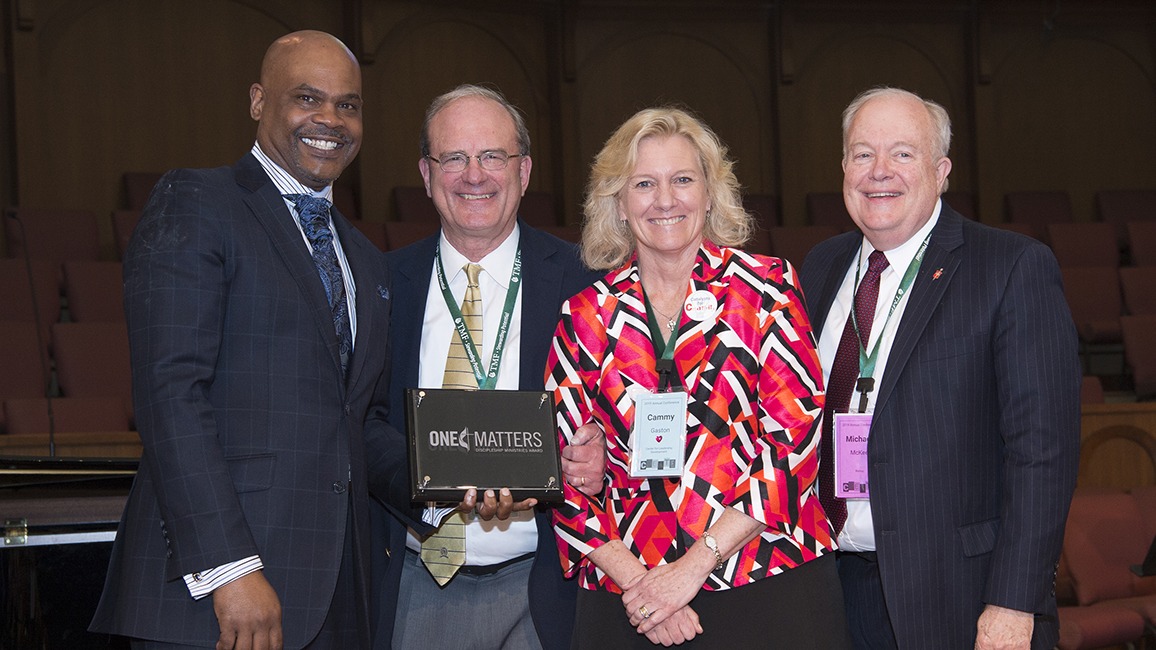 Miller Grove UMC is a small country church in Hopkins County. For the past 14 years, the church has been led by Howard Strickland, an 80-year-old quarter-time bi-vocational pastor.
In 2018, Miller Grove saw eight new professions. According to Strickland, the new professions of faith "liked what they heard and stayed."
Every Monday and Friday, Wesley UMC provides a free lunch for residents called Breaking Bread. The congregation shared about the ministry with their neighbors and sent two mailings to surrounding zip codes. Through this ministry, at least a dozen people started attending Sunday worship.
An adult confirmation class was created to educate 12 new Christians about The United Methodist Church by pastor Steve Cook and his wife, Dicie Rue. From these efforts, the church had four adult professions of faith and two confirmands.
When Rev. Cathy Partridge was first appointed to Caddo Mills UMC, she looked for ways to create disciples. Her first task was searching church records for those not baptized or a member.
"Once the first person made the commitment, more began to follow suit," Rev. Partridge said.
Church members started inviting friends and neighbors. Because of the combined efforts, the church saw four confirmands and 11 professions of faith.
"In these cases, the church benefited from the new energy and gifts that come with people discovering and rediscovering the grace of God," Rev. Gaston said.
Published: Wednesday, July 10, 2019