Communications Chief Patterson to Blaze a Trail Again

This newsletter? Check. Website revamp? Check. Push social media? Check. Now she's off to Hamilton Park
The Rev. Dr. Sheron Patterson's life has taken a few sharp turns as she's blazed paths along the way.
After seven years as communications officer of the North Texas Conference, she is now taking the helm of Hamilton Park UMC in Dallas, a traditionally black church in Dallas whose 60 years of history include the legendary Zan Holmes serving as pastor.
"This is a real victory for women in ministry to be appointed to a big pulpit," Dr. Patterson said.
It represents the next step for a woman who has climbed United Methodist ranks, authored books on leadership, become known as the "Love Doctor" in an advice segment on Dallas TV, and drawn the national spotlight with a powerful opening prayer at the memorial for five Dallas officers slain in an ambush last July.
Although Dr. Patterson is well-known throughout the conference, there are probably things many don't know about her.
They include her call to ministry, which occurred in the second semester of her senior year at Spelman College in Atlanta.
God, she said, spoke to her in her dorm room, telling her to "use my skills to glorify Him." There was no question what to do.
"My parents were shocked and stunned," she said of her sudden decision to attend seminary instead of pursuing a career in mass communications/radio-TV-broadcast, her degree.
So the young woman who had planned to go to film school at the University of Southern California and spent hours dreaming with a friend about becoming rich cinematographers set about a different course. That friend, Spike Lee, then a student at nearby Morehouse College, stuck with Plan A.
Dr. Patterson's decision to attend Perkins School of Theology also resulted from a God moment. The Rev. Dr. Holmes, a former state representative who built Dallas' St. Luke "Community" UMC into a powerhouse congregation, happened to be preaching a revival in Atlanta. Dr. Patterson was looking at other seminaries when she met Dr. Holmes, and he persuaded her to come to Dallas, where he was on staff at Perkins.
She hardly knew a soul when she arrived in Texas.
"It was very overwhelming and lonely. Seminaries are usually filled with second-career people. I was one of the only young people and the only black female," she said.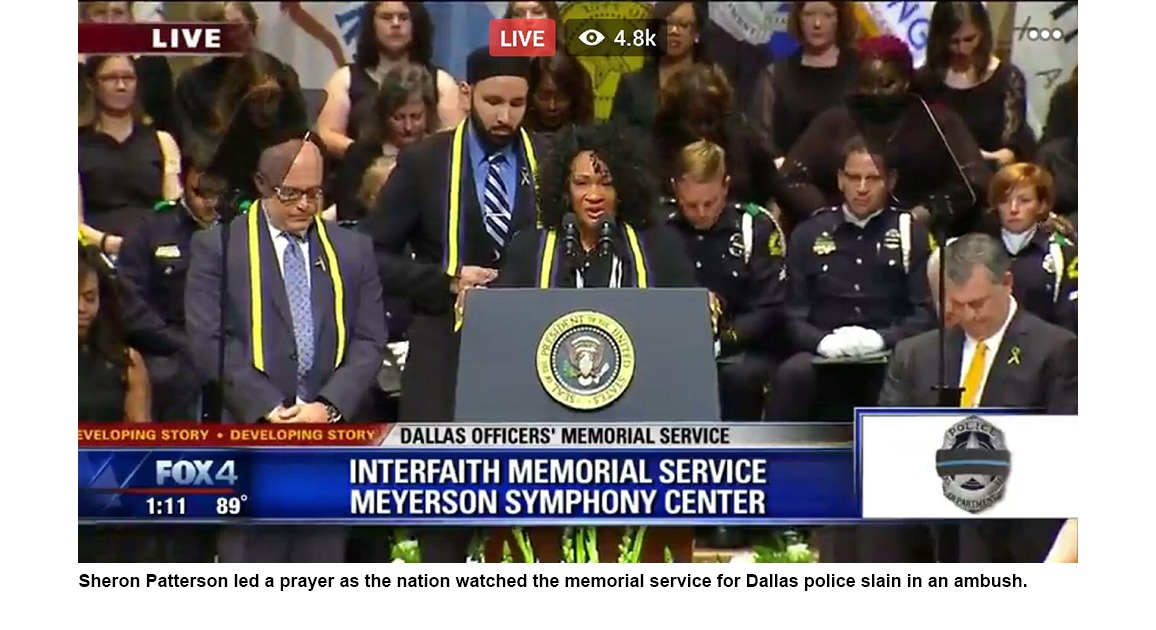 She admitted that she wasn't comfortable enough to tackle a Master of Divinity degree, leading to ordination, so she started with a Master of Theological Studies. She hoped to combine ministry with her communications education.
But those were the days before the North Texas Conference and larger churches had communications departments with professionals on staff. After graduating, she spent her weekdays working for the United Methodist Reporter, with which she traveled the world and won an Associated Press award for coverage of the farming crisis in the 1980s. On weekends, she was on staff at St. Luke. And there, Dr. Holmes told her "God is really calling you to ordained ministry."
She became the first African-American woman ordained in the North Texas Conference. She was appointed first as associate pastor at First UMC Dallas, then moved to senior pastor at Crest-Moore-King (renamed Community), Jubilee, St. Paul and Highland Hills UMCs.
Her appointment as NTC communications officer arose from a promise made when she was in the seminary. Classmate Earl Bledsoe assured her that God would make a way for her to combine ministry and communications. Once he became Bishop and Dr. Joan La Barr retired as the communications chief shortly afterward, Dr. Patterson stepped into her new role.
Dr. Patterson said she "stood on the shoulders" of Dr. La Barr and Bob Robertson, who "had a big personality and got us on the map with the newspaper" as the conference's first communications boss. Dr. La Barr combined her newspaper experience with her considerable knowledge of The United Methodist Church to create the template for a modern communications department.
When Dr. Patterson took over in 2010, technology was evolving at warp speed and she saw her department in danger of falling behind. To keep pace, she built a team whose members have the specific skills required today: Wil Murphy in branding and video; Linda S. Johnson in writing, editing, and presentation for the online newsletter; Patrick Steil in website management; Wendy Campbell in marketing and email; and Michael Graves in social media and metrics.
One of the biggest surprises took place in 2013, when the United Methodist Reporter suddenly halted production. The move also killed the North Texas Reporter, the conference publication that had long been printed by the national newspaper. The NTC staff scrambled, found another printer and began publishing as The North Texas Connection. In 2015, the newspaper moved online, evolving into a biweekly newsletter.
Also during Dr. Patterson's tenure, the NTC revamped its website to be more user-friendly and developed presences on Facebook, Twitter, Instagram and other social media.
"The biggest challenge was getting lay and clergy on social media. They came kicking and screaming," Dr. Patterson said. "It was a battle because it was so new."
Many viewed social media as a fad and "wondered: How is this going to help my ministry?" Another big one, she said, was "Why do I need a website?"
Now Dr. Patterson is looking ahead to July 2, 2017, when she takes the Hamilton Park pastorate. The church has "a great existing membership, and we hope to add to that number exponentially," she said. The Rev. Christopher O'Riley, commissioned as an elder in June, will team with her as associate pastor and focus on younger members.
"I'm excited about the future, hopeful and looking forward to God doing some extraordinary things," she said.
Published: Wednesday, June 21, 2017