Cochran Chapel Gets Rarely Bestowed UMC Marker
Church celebrates 200th birthday of Nancy Jane Cochran, who was Dallas' first Methodist
Cochran Chapel UMC had a big birthday bash Oct. 22, 2017. It honored the church's matriarch, Nancy Jane Cochran, who would have turned 200 two days later.
But it was also a birthday celebration for Methodism in Dallas, with the unveiling of a marker designating Cochran Chapel as Historical Site #530 of The United Methodist Church — not an easy honor to get.
Cochran was the first Methodist in what today is an international city. She gave the land for the oldest deeded church in Dallas.
Descendants of Cochran and her sisters attended the service in the sanctuary, where the stained-glass windows bear the names of family members. Howard Joe Cox, 92, is the last living descendant who still is an active member of Cochran Chapel.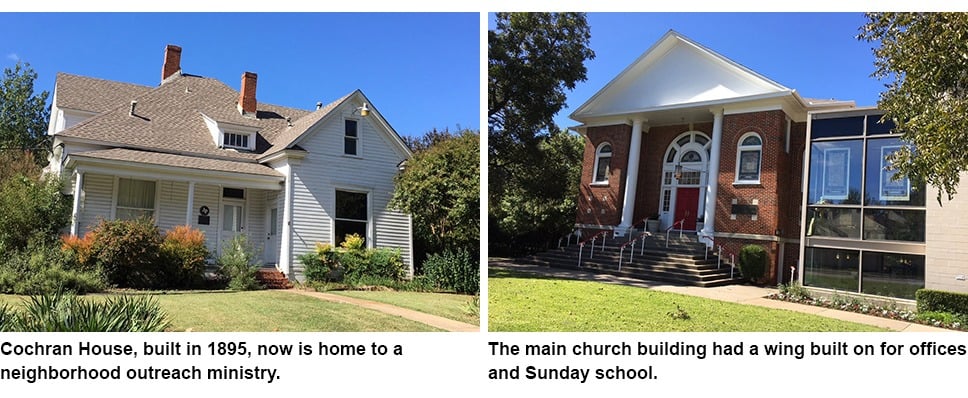 Through the wilderness
In the early 1840s, Nancy Jane and her husband, William, left Tennessee for Missouri with plans to eventually buy farmland for $1.25 an acre. But soon they heard of a better deal — free land in a foreign country, the Republic of Texas, where the soil was fertile and the climate mild. They hitched oxen to a wagon, loaded it with provisions and set off with their three sons and infant girl for the Peters Colony. The trip to Texas, in early 1843, probably took six to seven weeks through wilderness, with only a few animal tracks or Native American trails to mark the way.
Soon, the Cochrans sent for Nancy Jane's sister, Mary, and her husband, Isaac Webb, to come to Texas. The sisters and Webb formed a tiny cluster of Methodists. On March 19, 1844 — barely a year after the Cochrans arrived — the first Methodist traveling minister, Thomas Brown, visited the colony to preach a sermon in the Cochran cabin. That marked the start of the church.
In time, William, who experimented with different crops, became a successful farmer and so respected that he was elected county clerk and then a state legislator from the newly formed Dallas County.
"If we credit William with introducing cotton to North Texas, then we need to credit Nancy Jane with introducing Methodism to North Texas," Rev. Jeff Hall said in his sermon for Heritage Sunday.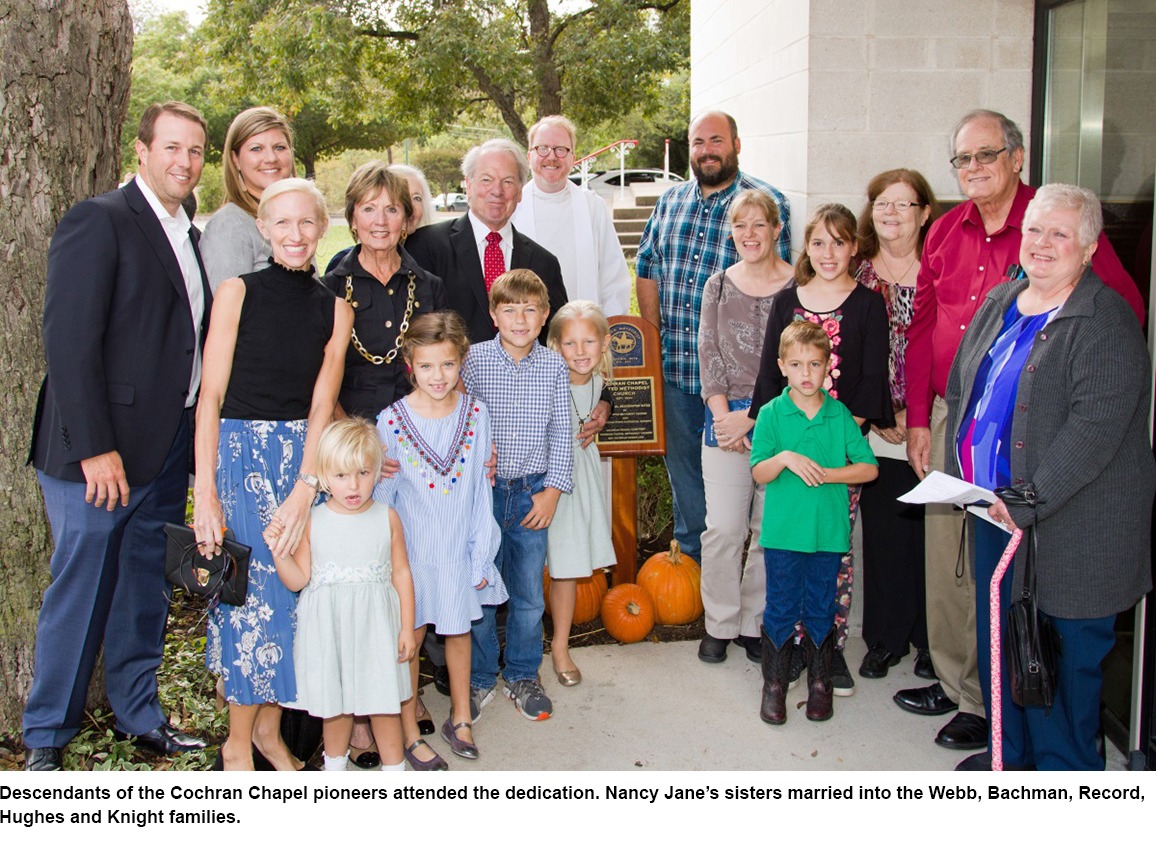 'Bestowed sparingly'
Being named a Historical Site of The United Methodist Church is no easy feat. In fact, on its website, the General Commission on Archives and History "counsels that the designation be bestowed sparingly."
Sparked by the North Texas Conference's 150th anniversary, Cochran Chapel decided to go for the designation. But that was in March, three months before the Annual Conference met in June. Suddenly, Cochran Chapel was racing to the clock to get everything together for the recommendation that Annual Conference would have to pass — no resolution, no designation.
Member George Hendrix did much of the legwork for the four-page application. For starters, it asked about the original architect, original construction and original owner.
"The difficult bit gets into the supporting material. They want church history, pamphlets, newspapers — it's a curious process in parts," Rev. Hall said. They mined a church history written by descendant Anne Cochran and Anna Baker. "Then you have to have the support of the conference Commission on Archives and History."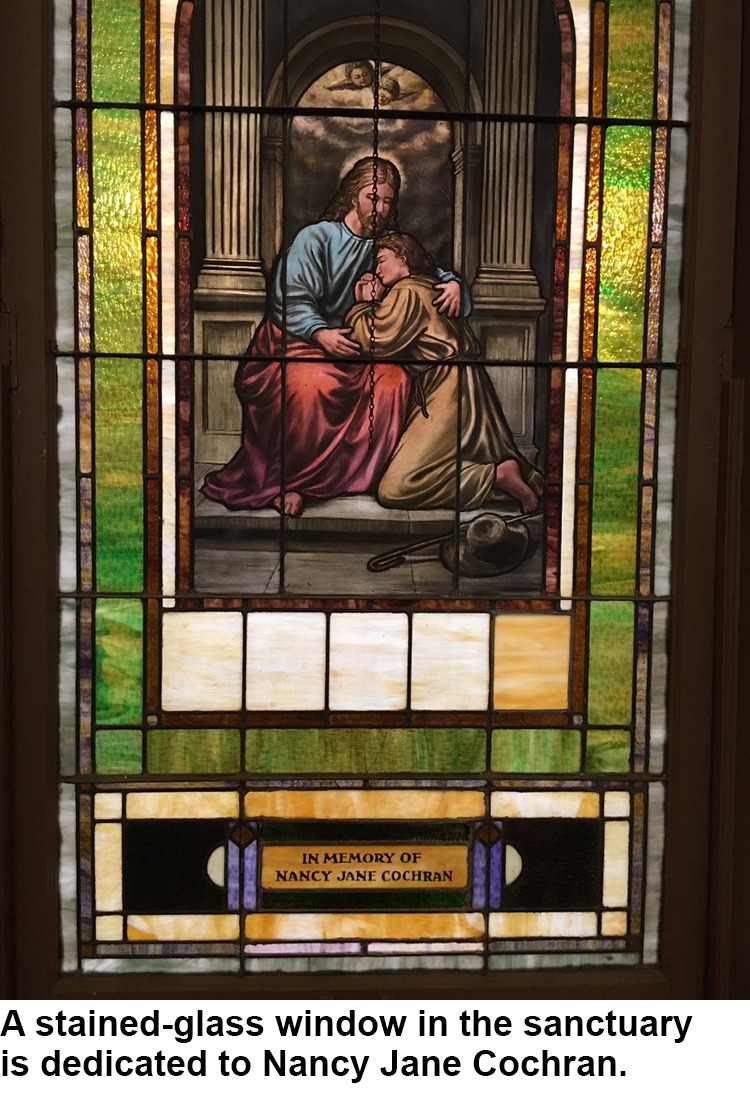 Once the resolution passed at the Annual Conference, the approval came surprisingly fast, Rev. Hall said.
What's ahead
Now Cochran Chapel is looking to the future.
"We've been in engaged holy conversation" through the Methodist Foundation, said Rev. Hall, examining "who are we, who are our neighbors and how is God calling us to serve our neighbors."
"This is a dynamic and changing neighborhood," with an influx of high-end housing as well as an established, predominantly Hispanic community, Rev. Hall said.
Mindful of Cochran Chapel's past, Rev. Hall borrowed from Charles Wesley's hymn "A Charge to Keep I Have": "To serve the present age, our calling to fulfill.
---
More than a Sanctuary and Fellowship Hall
Nancy Jane Cochran would no doubt be pleased to see that today's Cochran Chapel UMC sits on a campus of roughly nine acres on Midway Road near Northwest Highway. In addition to the main church, it's home to:
Cochran House, the 1895 home built by Cochran son W.P. Cochran, which now houses a ministry reaching out to the neighborhood. Rev. Justinand Lisa Hancock lead the ministry.
The Micah Center, home to Life in the Trinity Ministry, which hosts programs encouraging self-knowledge and fostering spiritual maturity. Rev. Joe and Suzanne Stabile operate it.
Cochran Cottage, a cottage used for youth, especially for summer camps.
Meaders Hall, the church's fellowship hall and home of Cochran Kitchen, which hosts the homeless and low-income for a monthly meal.
Cox Chapel, where New Day Ministries, a nondenominational group, meets.
Cochran Chapel Cemetery, where Nancy Jane and her family members are buried.
Published: Tuesday, October 24, 2017