Churches Spring Into Action After Tornado Outbreak

Storms affected Mabank members, including a widow whose home was hit hard
First UMC of Mabank and College Mound UMC swung into action after the tornado that struck April 29, 2017, in Canton, affecting some of Mabank's members.
Larry Partridge, an Early Response Team captain for the North Texas Conference who belongs to the Mabank church, and the College Mound group helped a Mabank member whose house was severely damaged in the storms. Canton is about 20 miles from Mabank.
Yolie Beavers, who lost part of her roof in the storms, texted Pastor Dana Norton that "we're dirty, stinky, exhausted and overwhelmed, but everyone has been absolutely wonderful" after the tornado. The Early Response Team also was helping her neighbors, including one whose house was hard hit.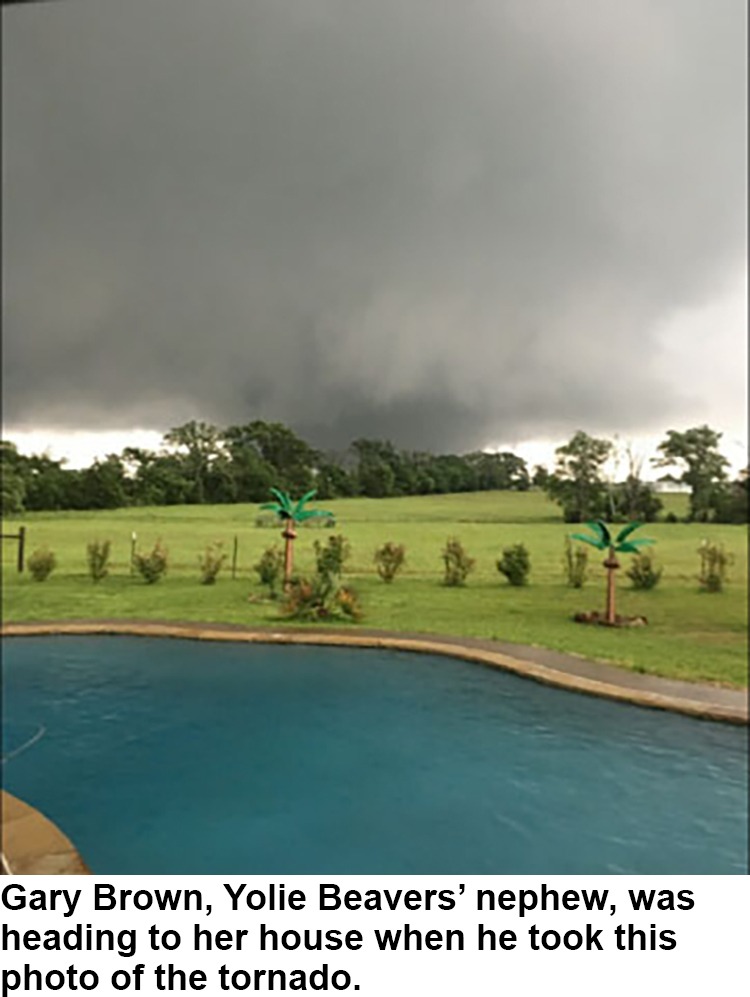 Partridge wrote in an email: "House we worked at was southeast of Canton. Area was almost completely devastated. Homeowner was a widow, member of FUMC Mabank. ... No power or water in the area. Most homes completely gone. Going back Saturday to finish work on that house and work on another which was completely destroyed."
Beavers was able to recharge her phone and get her first cup of coffee at First UMC Canton, which opened as a shelter the night of the tornado outbreak that swirled through East Texas.
Beavers and her neighbors were left somewhat isolated because of tree debris that has blocked access to their homes. First UMC Kaufman, which planned to bring more tarps to Beavers over the weekend, and First Mabank were told they would need to go through a pasture to come do repairs.
Law enforcement, Beavers told the pastor, was being very strict about allowing people into the rural area, forcing people to walk in with supplies. They have since cut back to a night patrol, allowing people to drive in again.
She has remained without power and water in the days after the tornado.
The Mabank church also opened up showers to members who had lost electricity and water in the storms. Because many members use wells, the loss of power meant the loss of water, Pastor Norton said.
Although close to the North Texas Conference border, Canton and the area affected by six tornadoes that touched down are in the Texas Conference, putting it in the lead role on response.
The Texas Conference put out a call for certified Early Response Teams from churches and sent cleaning kits and tarps to the affected areas. First UMC Canton opened its doors as a shelter.
"As with any disaster," said Scott Moore, executive director of the Mission Center for the Texas Annual Conference, "financial donations may be made to UMCOR US Disaster Response, Advance #901670. One hundred percent of these funds go to assistance for disaster survivors."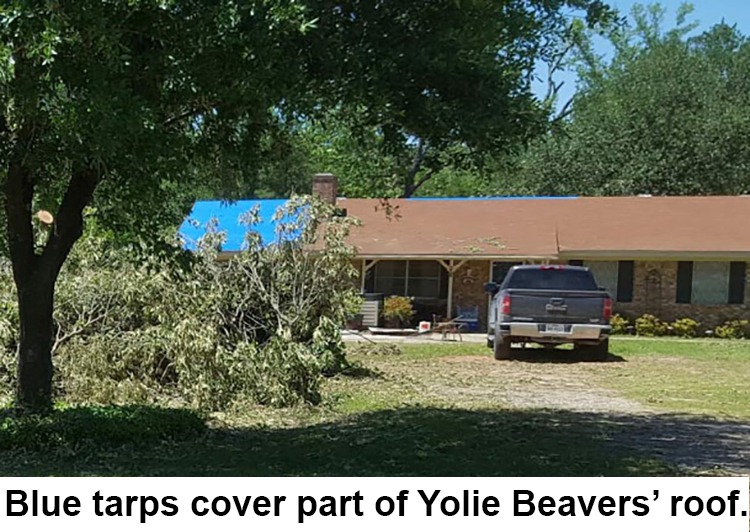 I Felt Like God Left My House Standing for a Purpose
Yolie Beavers, her sister and brother-in-law, and two big dogs rode out the tornado in a small closet. Here is her story:
"This happened around dinnertime. The sky grew black, and I stepped out the front door to have a look when I heard the terrible-sounding roar in my trees. I screamed to get in the closet, and in less than 5 minutes we heard trees falling on my house.
"The destruction is horrendous. It honestly looks like a bomb was dropped in our neighborhood. BUT we are so counting our blessings that we are safe. My neighbor across the street lost his house.
"It was my sweet neighbors whose pets I was so worried sick about. They are two precious miniature donkeys named Mud Pie and Moon Pie who seemed to be missing immediately after the tornado. I love them so much. Always have a rub behind the ears and a kiss on the nose for them when I take my walks.
"They were found safe the next morning.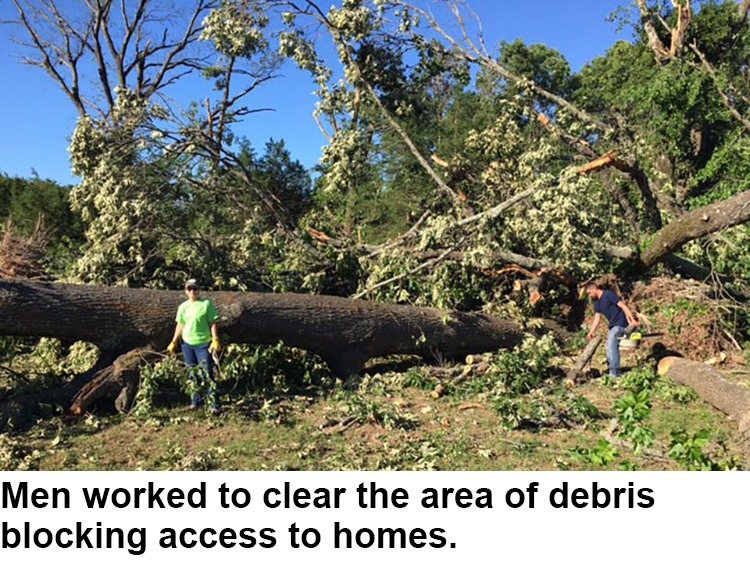 "FUMC disaster team from Kaufman has been a huge instrument of love. Came with chain saws and have already made progress in cleaning my yard. FUMC in Canton has trucks arriving daily with water, drinks, tarps and a food truck is there cooking warm meals for us each day. I am truly overwhelmed with all the kindness.
"It may be awhile before we have our neighborhood cleaned of debris but still we feel blessed. One of my neighbors up the street was sucked out of the house. House is completely gone. She is in the hospital."
Beavers' sister was the one who urged her to move to Canton after Beavers lost her husband to cancer. Her sister's husband now has early stage Alzheimer's, and they decided to put the house and acreage on the market and moved in with Beavers.
"She had a signed contract, which the gentleman had until Sunday to back out. The tornado struck on Saturday. Needless to say, the contract is now void. We understand and don't blame him at all.
"Right after the storm, nightfall set in. Our roads were blocked in five different places from huge, uprooted trees and mangled steel so basically nobody could reach us. My niece rushed over from town to check on us and she had to walk across pastures when blocked roads prevented her from driving in.
"It was totally dark outside by now. With her, she brought a mother and two small children, also walking. Those strangers, as well as friends of neighbors across the street who were dog-sitting, all spent the next two hours with me.
"I felt like God left my house standing for a purpose. I was happy to have them in my home safe and calm."
Published: Tuesday, May 2, 2017