Churches Combine Efforts to Help Harvey Victims
Workers tarped, replaced, repaired, cleared and interacted with homeowners
For five days in April, faithful Methodists from five churches within the North Texas Conference combined their efforts, talents, resources and time to again help the victims of Hurricane Harvey. Capably led by Rev. Clay Womack, this trip emphasizes our Annual Conference's on-going commitment to partner with our brothers and sisters in the Rio Texas Annual Conference to serve along those whose homes suffered damage as a result of Hurricane Harvey.
During this five-day trip, work teams from the First United Methodist Churches of McKinney, Garland, Frisco, Rockwall and Richardson completely tarped the roofs of three houses, replaced damaged sheetrock, repaired bathrooms, cleared brush and tree limbs, and most importantly, interacted with homeowners who literally have been waiting months for the good news that someone remembered their situation and was coming to offer them help and hope.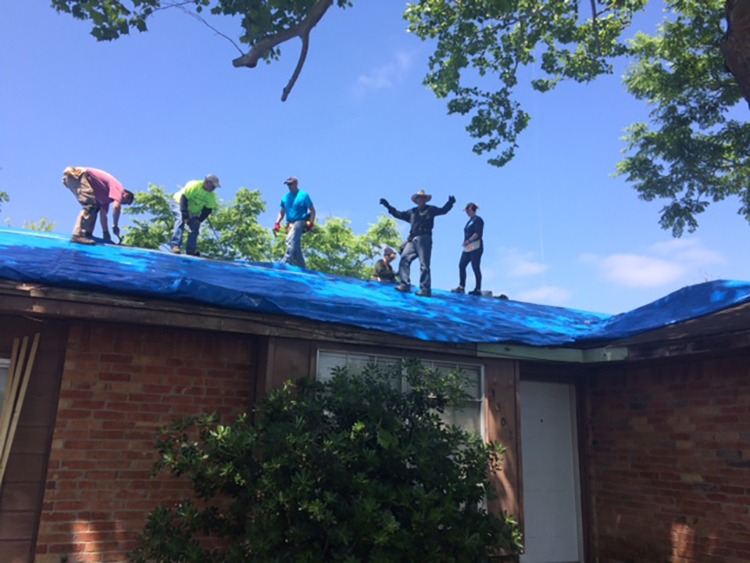 This April trip to Victoria, Texas, was my church's second Mission Trip this year, as we also traveled to Victoria in mid-January. We are looking forward to more trips in the future, as our Conference is committed to a long-term relationship with the Rio Texas Conference, helping bring hope and help to the people of south Texas. To go is to offer a blessing to people in need, while also receiving the blessing that comes when we love others in the name of Jesus Christ. I hope your church will consider being a part of future mission trips heading south to work, to love, and to serve, and to be blessed.
In Christ,
Steve Robertson
Executive Associate Pastor, First United Methodist Church Frisco
Published: Wednesday, May 2, 2018