Churches Bless Students, Educators Through Back-To-School Ministries

Youth off to a great start with new backpacks, plenty of supplies and decorated classrooms
As students and teachers head back to school, churches across the North Texas Conference have stepped up enthusiastically to show support.
For some, this has been a student-focused effort, with in-worship "blessing of the backpack" moments and community events offering back-to-school necessities like school supplies, books and food items. For others, back-to-school efforts have supported teachers and staff directly, whether through volunteer workdays preparing schools and classrooms, or through educator-focused panel programs, which allow the community to help carry the load in providing a high-quality education for every child.
Below are just four examples from all corners of the conference, illustrating the variety of ways NTC churches are serving as a force for good in their communities and the classroom this fall.
Calvary UMC, East District
"We are helping a lot of folks who need a little help this time of year," said Rev. Kevin Strempke moments before blessing 75 school backpacks at Calvary UMC on Aug. 14.
Calvary UMC and Kid Care, a child-care center that is housed within the Paris church, joined forces in the effort.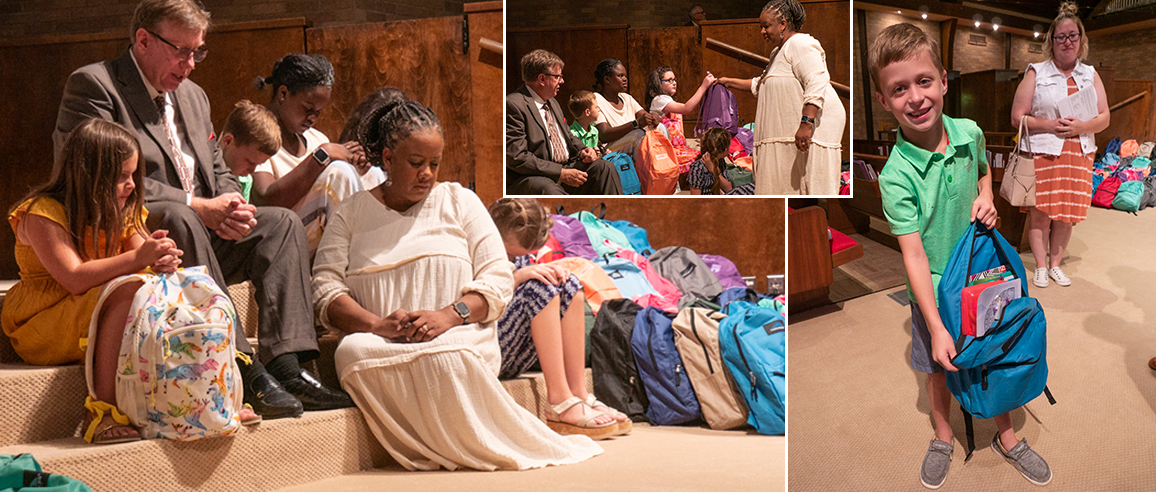 "The Director of Kid Care said they would buy [the backpacks] and give us a list of what is needed so anyone with just a couple of dollars could contribute," Rev. Strempke said. "We had a 10-gallon barrel and by the second day we had that full. [We put out a bigger barrel] and on the third day that was full. And we had donations of $500 then $200 dollars on top of all that."
Kid Care has 120 kids — infants to 13-year-olds — in its program, approximately 60 are school age and each child received a backpack full of supplies. The extra backpacks and supplies will be donated to Aikin Elementary School.
"Our initial goal was 50," said Larissa Bass, director of Kid Care. "God blessed us abundantly."
First UMC Whitesboro, Northwest District
"Wow, this church does so much for the community!" That was the sentiment shared by a parent who attended First UMC Whitesboro's Back to School Bash on Aug. 8. The church has been making a name for itself as a hub for the community and this year's event was the biggest one yet with 110 students served.
"We had a great group of about 30 volunteers to make sure that as each student came in, they got to pick out their own backpack and were guided one-on-one through each station to get everything they needed on their grade's school supply list," said Erin Blankenship, director of family and children's ministries.

The bash also included coupons for free haircuts from a local hair salon, toothbrush kits from a local dentist, information tables from community partners offering utility assistance, bags of groceries from Your Neighbor's House food pantry and a story time with a representative from the local public library. The United Methodist Men grilled hot dogs and youth minister Jake Dickerson passed out popcorn.
"I think it's significant because not a lot of places in town do this," Blankenship said. "And we're trying to incorporate a lot of elements from the community to connect families to resources in the area. It was also a really good time to sit down and talk with parents to make sure they know our church is a resource for them and we care about their families."
Grace Avenue UMC, North Central District
"No matter what the age of your student, starting a new school year can bring a mix of emotions and expectations," said Kim Eiffert, Grace Avenue UMC's director of communications.
The church took advantage of a new worship schedule to launch a learning and discussion hour called Sunday Spotlight with the first installment, "How to have a Great School Year: Ways to Support our Students and Educators" on Aug. 14. The panel and question-and-answer session were led by Tyra Damm, Alleigh Carthey-Venable and Tiffany Krieg, teachers in a Frisco middle school, high school and elementary school, respectively.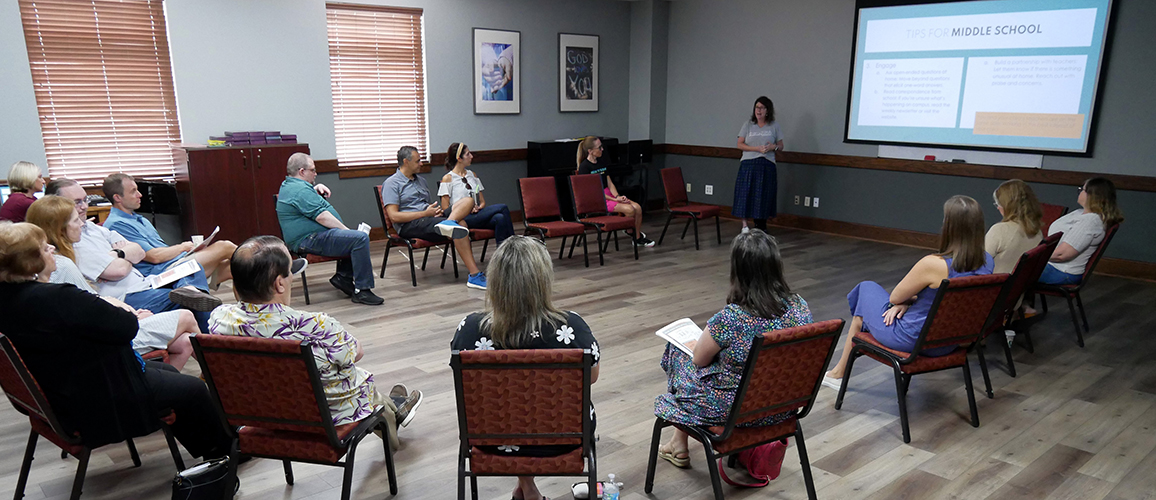 "People are looking for a practical how-to practice and that's our vision for that hour," said Senior Pastor Rev. Billy Echols-Richter. It was ideal timing to launch in August with a panel of educators who are also parents, providing space to discuss how to have a great school year.
"There was also real intentionality around supporting teachers, especially the teachers who are members of the church," Eiffert said.
Echols-Richter echoed this as he reflected on how schools have become the new battleground in political debates. "We wanted to keep the focus on students and teachers and communicate to parents that teachers are going to work with you, and we want you to work with teachers, so everyone can stay focused on our kids."
First UMC Richardson, Metro District
First UMC Richardson has long prioritized blessing children in the community. In recent years, that has taken the form of partnerships with Mark Twain and Greenwood Hills Elementary schools.
Over two Saturdays in August, more than 100 church volunteers of all ages joined individuals from the schools' neighborhoods to help serve and support teachers and administrators as they prepared their classrooms and buildings for a new year. FUMC Richardson's Children First committee has organized this annual tradition for years, and 2022 marked its return, following a pause during the pandemic.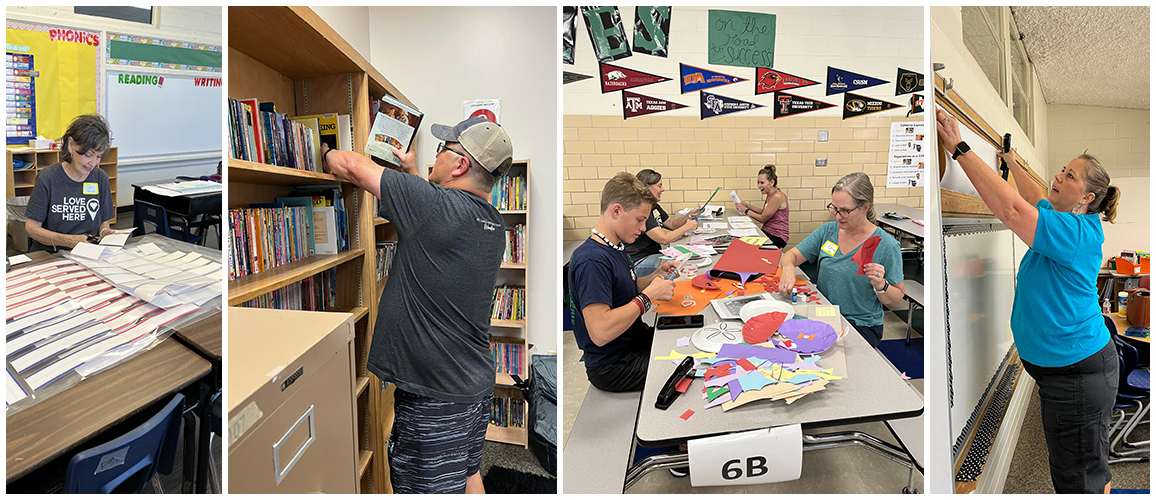 "We were thrilled to return to the schools to meet teachers and help them set up," said Rev. Pavielle Jenkins, associate pastor for missions and community engagement. "God's grace and love worked in mighty ways through the volunteers as they talked with the teachers, learned about their stories and needs and went above and beyond to show them there is an entire community of people who are supporting and cheering for them."
The Children First committee established and continues to nurture the partnerships with schools in the Richardson community. In addition to the classroom workdays, volunteers celebrate the staff, read with students, provide teacher support and help at large school events throughout the year.
Published: Wednesday, August 24, 2022