Christ UMC Volunteers Pitch In At Dallas Indian Mission UMC

Farmers Branch's Adult Mission Team organized the new pastor's office, sanctuary and donated food from discontinued food pantry
Members of the Adult Mission Team at Christ UMC Farmers Branch had an opportunity to share the love of Christ with Dallas Indian Mission UMC.
Rev. Jami Moss, the new minister of DIMC, asked for assistance with much-needed organizing of her office, the sanctuary and other areas of the church. Additionally, the church recently discontinued their food pantry, so cases of food needed to be donated elsewhere. Over the course of six hours one recent Saturday, the team accomplished all of this and more.
Jerry Clark helped DIMC's audio tech update the audio system in their sanctuary, including untangling and labeling a giant ball of cables and equipment. The pastor's office is now decluttered and serves as a functional workspace, and their sanctuary looks refreshed. Metrocrest Family Services received a truckload of nonperishables to feed neighbors in Collin County.
As a pastor beginning a new appointment, Moss noted how overwhelming it can be to have five to 10 projects to accomplish at once.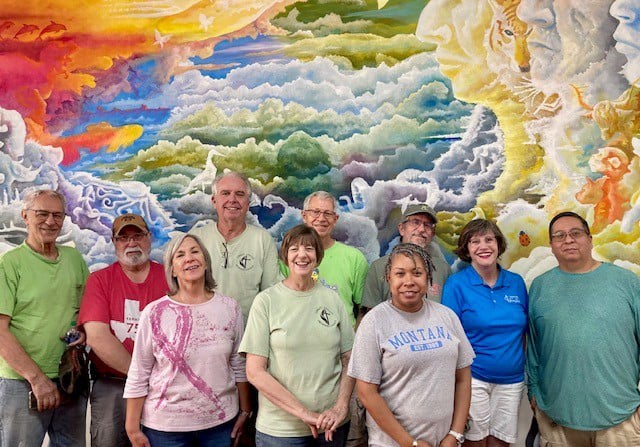 "I'm so grateful for their service to us and their help to me," she said. "That was the best gift they could give me as a pastor in a new appointment. The team from Christ UMC Farmers Branch worked so diligently, I had a hard time keeping up with them in giving direction."
DIMC was established in the 1950s through the Indian Relocation Act. It began in the homes of indigenous people who were relocated from Oklahoma to Texas. As their attendance increased, they moved to their current building in Southwest Dallas. At one time, a dental and health clinic operated in their fellowship hall, and they continue to reach out to the community in various ways. The current membership is small, averaging 30 on Sunday morning, 10 at Wednesday Bible Study and prayer, and about eight for Thursday morning "Silver Feathers," which is their elder Bible study group. They currently partner with American Indian Heritage, Texas Native Health and other community organizations.
Moss said: "My hope for the church is that we will continue our endeavors through community participation while being ambassadors for Christ through our love of God and love of our neighbor. As our neighbors experience the love of God through us, I hope that they will join our endeavor to love God and neighbor as well."
The CUMC team was inspired by Moss's dedication and enthusiasm for ministry with her church and the Native American community. "The church may be small in number, but their hearts and outreach are impressive," one volunteer remarked.
When asked about her experience at Dallas Indian Mission, team member Connie Bouas said that "she loved working with other CUMC members to help transform the new pastor's vision for their sanctuary into a reality."
The CUMC Adult Mission Team continues to serve the Oklahoma Indian Mission Conference with trips to Oklahoma to provide much-needed renovation to homes there. They also intend to work alongside other churches in bringing the Dallas Indian Mission's parsonage up to code to make it a livable space for Moss.
When Moss told her congregation about the work being done by a church in the North Texas Conference, they were happily surprised.
"I was talking to parishioners and letting them know this conference has really been helpful and it's because of our connectional system," she noted. "Wherever we go or whatever we need, or if we can give assistance wherever we can lend a hand, we have a connectional system that connects us. They are invested in us, that we're all United Methodists. One congregant said they didn't even know we had things like this available to us in this capacity."
Just as John Wesley emphasized Christian communion and our connection to one another, NTC churches are doing that for OIMC churches.
"They're not leaving us by the wayside, but coming alongside us," Moss said. "Jesus sent the disciples out in twos. When you think about that, you need someone beside you in case you go down or you have a need. You just multiply what you do have. Multiplying what we have for our Native brothers and sisters, our Hispanic brothers and sisters who are the ones that are prevalent in this neighborhood, I'm grateful that we have a connectional denomination because that exemplifies love of God and love of neighbor as yourself."
Published: Wednesday, November 1, 2023