Chance's Serves Up Tasty Pies And A Purpose

The Pie and Coffee Shop inside Highland Park UMC is staffed by special-needs individuals and volunteers
Chance Urschel was born with a neurological birth defect called Holoprosencephaly (HPE) that left him unable to talk, walk or move on his own. What it didn't affect was his outgoing personality, his zeal for life … and the ability to make great pies.
Urschel passed away more than three years ago – on Feb. 29, 2016 at the age of 20 – but his memory lives on at Chance's Pie and Coffee Shop, the newest offering of the Belong disABILITY Ministry at Highland Park UMC. The facility, which opened Sept. 15 inside the church's new Tolleson Family Activity Center, sells personal-sized and family pies – apple, cherry, coconut cream as well as seasonal pies – not to mention special-roast coffee and tea.
What makes Chance's unique is that it is staffed by Belong disABILITY participants that, like their namesake, have a special need.
"When people come in and are served a quality product, it dispels myths that [individuals with special needs] are not productive citizens – because each of them has a lot to offer," said Vance Gilmore, director of the church's Belong disABILITY Ministry. "It's uplifting to see their confidence grow. They're just like anyone else – mastering skills, putting them to use and feeling good about what they're doing."
Chance's parents, Hal and Christi Urschel, were always trying to find things that Chance could do at home despite his physical limitations.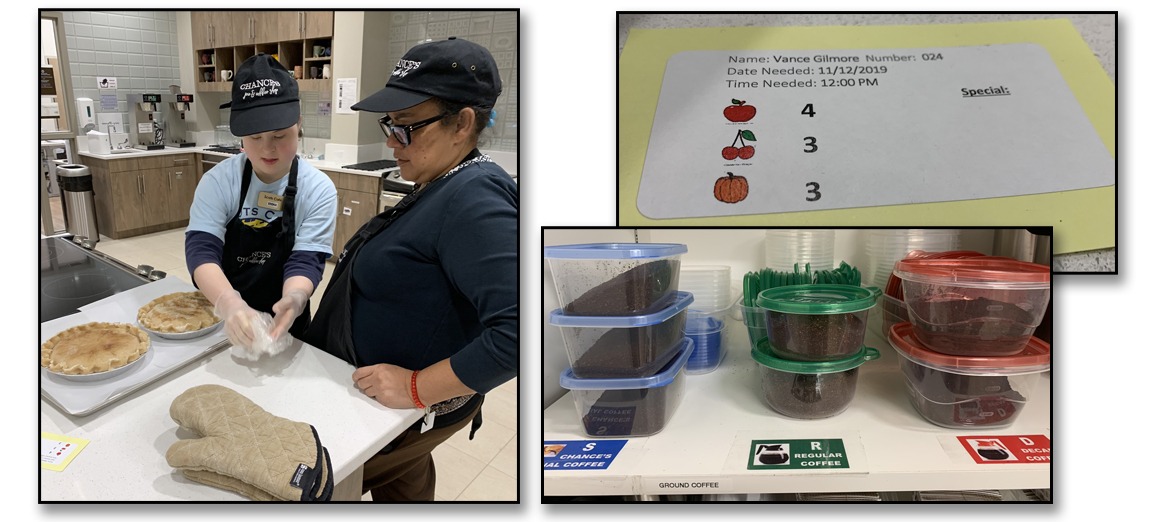 "It turned out that he really enjoyed the cooking process," Chance's father, Hal Urschel, recalled in a 2017 interview with Highland Park UMC. "One of Chance's teachers taught him how to make a uniquely delicious apple pie. He would bake it from scratch, cutting up the apples and making the dough. It would take him about an hour to make a pie, and it would turn out beautiful every time."
Said Chance's mother, Christi: "It brought him great joy to give to others. It was hard for him to try to hold onto a spoon, but we very quickly learned that it was very motivating for him to be in the kitchen and try to use a spoon to actually make a pie. He really understood that once it was finished, he was going to be able to give it to someone."
Chance's is open from 7:30 a.m. to 12:30 p.m. Sunday through Thursday and has a crew of three participants and two volunteers for each shift. It is patterned in part after a similar facility at The Brookwood Community, which provides spiritual, educational and vocational opportunities for adults with special needs in Brookshire, Texas, outside of Houston.
Participants and volunteers take part in a three-week training process that focuses on three key areas: hospitality, customer service and food preparation. They work collaboratively to make pies, grind coffee beans, fulfill orders and operate the cash register.
"It's amazing to see how quickly they not only learn tasks but also create camaraderie," manager Todd Bruning said. "For some, a job won't be an option, but we can help identify skills that God has given them and develop the skills and confidence to work. Our hope is to place individuals into jobs that people might think are possible for those with disabilities."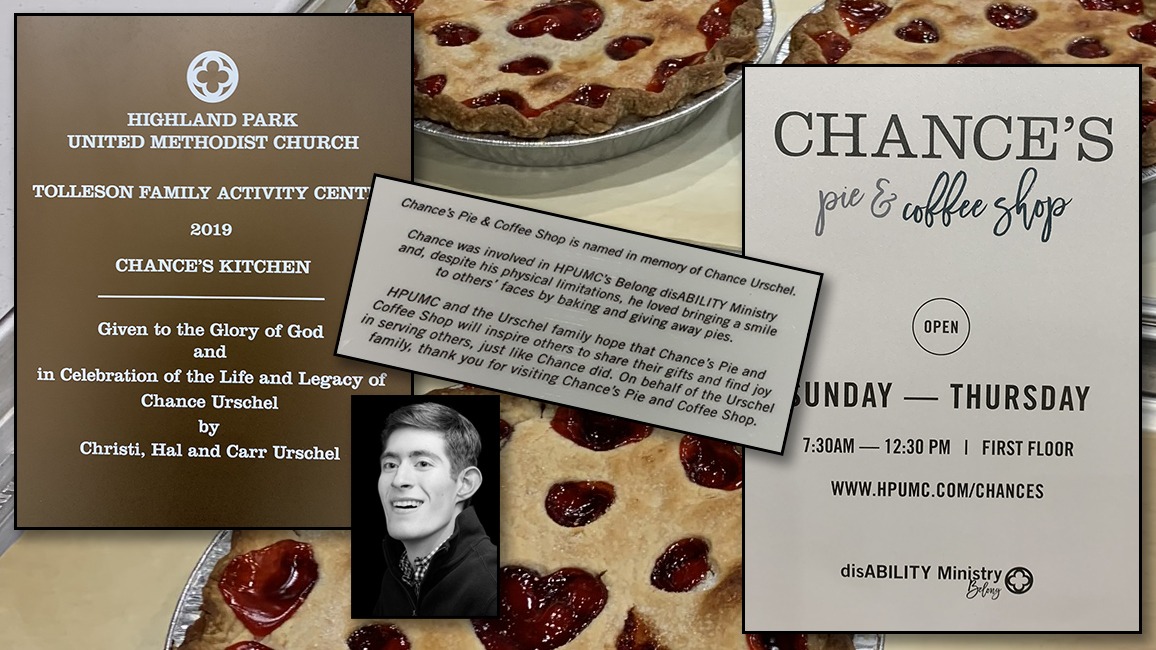 Bruning has been instrumental in developing and implementing the training process. He and his wife, Jamie, are both ordained pastors and parents to 11-year-old Nikhil, who has autism. Several years ago, Bruning took a sabbatical to study special-needs ministries in the area; in the last two years, he took another sabbatical to learn specifically what he could from Highland Park UMC.
Finding participants for the program hasn't been difficult, as it draws attendees from the Notre Dame School, Highland Park ISD's special-education department and the church's other special-needs offerings: from Night OWLS (Night Out With Loving Sitters), which pairs special-needs children and their siblings with volunteers to give parents a night of respite, and Spotlight Academy of the Arts (which produces musical theater and short films) to special-needs Sunday School classes (The Walk) and worship service (The Feast).
Volunteers also include a pair of graduate students in occupational therapy from Texas Woman's University.
It's not just about selling pies, but – to date – Chance's has served up 1,284 tasty treats. The newest venture is another extension of Highland Park UMC's deep commitment to the special-needs community.
"This church has a senior pastor [Rev. Paul Rasmussen] who always has been very dedicated in this area," Gilmore said. "His challenge all along has been to not to build spaces but to build programs. With Chance's, we're doing just that and building opportunities for so many people to be a part of."
Published: Wednesday, November 13, 2019