Bridgeport Camp: Making Memories That Last A Lifetime
"I like going to Bridgeport because you can meet new friends, do lots of fun activities and learn about God all at the same time"
As the temperature is inching closer to 90 degrees and school days are counted in weeks and days instead of months, thoughts turn to summer vacation. The North Texas Conference is lucky to hold several camps — childrens, junior high and senior high — at Bridgeport Camp. We asked former campers, current clergy and directors to share their camp experiences.
Cheryl Bishop | Director of Family Ministry at First UMC Richardson
Every time I smell shaving cream, I am flooded with memories of Bridgeport elementary camps. We would end our weeks with inflatables, water games and a shaving cream experience. Some called it a fight, but I always called it 'shaving cream blessings' as we threw it at one another, smeared it on each other and shaped our hair into stiff peaks of mohawks or Pippi Longstocking hairdos. It was always a way to make sure that everyone was fresh and clean before going home the next day, but the memories that come with the aroma of Barbasol can be overwhelming. I have been fortunate to experience camp with hundreds of others, but I am most thankful that I have experienced camp with my own children as they have grown into their faith. Bridgeport Camp has been a place where I have further deepened my own faith and lived into my response to God's call to ministry with children and youth. I have witnessed children, youth and adults hear God's call to ministry and respond to it in profound and everlasting ways. Sitting in the sweltering heat of summer or in the freezing cold of winter, overlooking the cross with the backdrop of the lake is indeed sitting on holy ground. Campers and counselors alike have been forever changed and have grown in faith through the relationships built in this place — relationships with God through Jesus Christ and relationships with faithful friends and fellow campers as they talk, sing, pray and play in this amazing gift called Bridgeport. The sacred and holy ground, set apart for learning, living and loving, has been part of so many faith stories. I am blessed to be one of those who has answered a call to faithful living and ministry. Once you pass through the gate into the camp, your life may never be the same.
---
Lisa Hamilton | Member at University Park UMC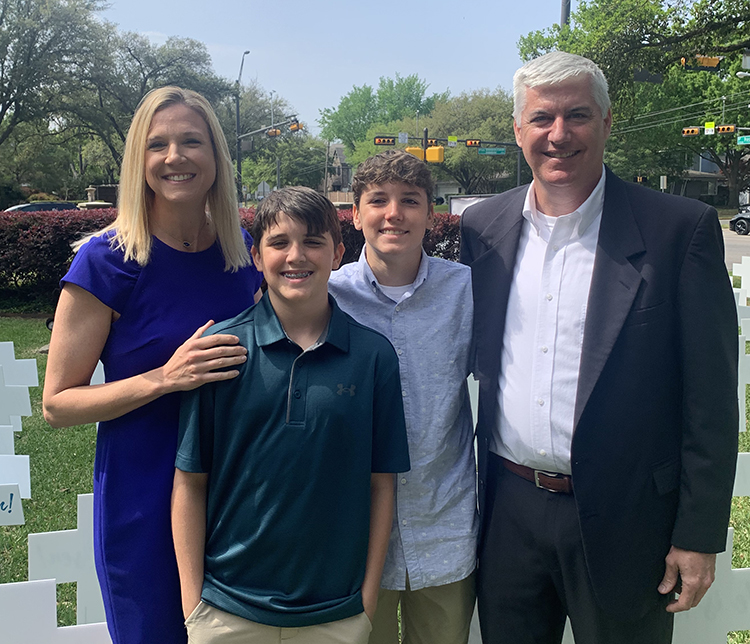 Bridgeport Camp and Conference Center has truly been a place of retreat for me over the years. It's a place near and dear to my heart where I have been nurtured in my faith and where I found great joy and great friendships. I've laughed with friends in those cabins until our faces hurt, and the inside jokes from decades ago still find their way into social media comments today. Bridgeport is where caring adults helped affirm my gifts as a youth and helped guide my next steps after high school. I met my husband, Alan, at Bridgeport when he was serving as the Executive Director of the camp, and now our two sons both enjoy summer camp experiences there. My youngest son Jacob said, "I like going to Bridgeport because you can meet new friends, do lots of fun activities and learn about God all at the same time." I'm thankful for all the worship services spent at the foot of the beautiful, rugged cross overlooking the lake at sunset and the impact the Bridgeport camp community has had on my faith journey.
---
Rev. Dr. Kory Knott | Sr. Minister at Custer Road UMC
It was the summer of 1981 when I asked Jesus into my heart, and accepted Christ as my Lord and Savior! I had just completed the fourth grade, and I was the only elementary kid from our United Methodist Church to attend Children's Summer Camp at Lake Bridgeport that particular year. By the end of an amazing week, I was overwhelmed with a sense of God's grace! I knew that I was a beloved child of God. I knew that I was saved by God's grace. And I knew that my life would never be the same! For the first time, I was beginning to understand what it meant to follow Jesus. I couldn't wait to share this amazing news with my parents and my church family. The next year I would recruit even more kids from our church to come to summer camp with me. I would go on to participate in many more camps and retreats as both a camper and a counselor, and some of my fondest memories and faith experiences happened at Camp Bridgeport. From Vespers worship in front of the cross, to table gatherings in Martin Hall, and Bible studies in Kiker Hall and Folsom Center. I learned what it meant to experience the love of Christ in both a personal and communal way. I will forever be grateful to the United Methodist Church and to the people who helped create A place as special as Camp Bridgeport!
---
Joseph Bradley | Camping and Retreat Ministries at North Texas Conference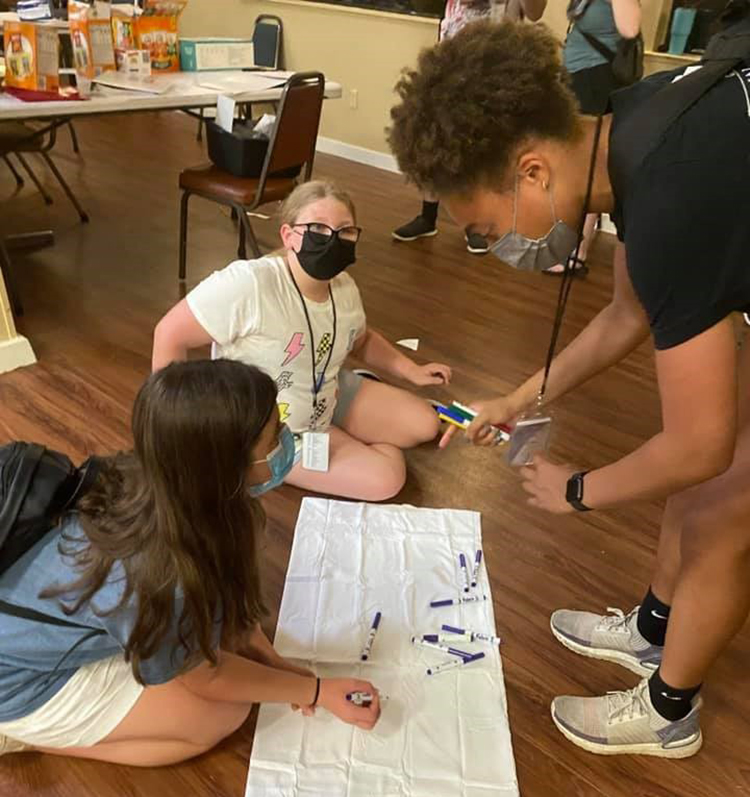 We have all seen the beauty of Bridgeport Camp and Conference Center or places like it. What you also get to see at our camps is the beauty of young people who are having transformative experiences. For instance, last summer one of our campers, Mikayla, was coming to Junior High Camp for the first time. She was blessed to have another older youth, Jillian, as one of her small group leaders. Jillian (right) had such an impact on Mikayla (blue tee shirt) that when she got the chance to be a Junior Counselor at camp this summer, she jumped. When asked why she wanted to be a Junior Counselor, she told us that it was specifically because Jillian had made her experience so special, and that she wanted to have the chance to do that for someone else as a Junior Counselor. What a beautiful example of how camp, and the relationships that are made there, can have a profound impact on a young person's life.
---
CJ Rice | Minister to Youth and Families at First UMC McKinney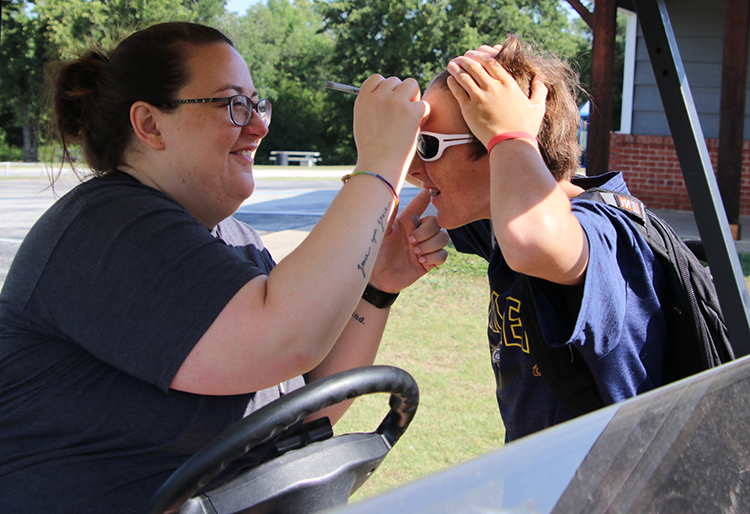 I am so thankful for how Bridgeport aids in the ministries that I am working with. Camp is a place where experiences are had, relationships are built and leaders are equipped – I have seen all this firsthand with youth I have worked with. Bridgeport Camp has been and continues to be a place where young people get to experience who they are and who God is. I believe the ministries of our local church are bettered by the work that happens while at camp.
Published: Wednesday, May 4, 2022