Book On Pleasant Mound UMC History Nabs Honor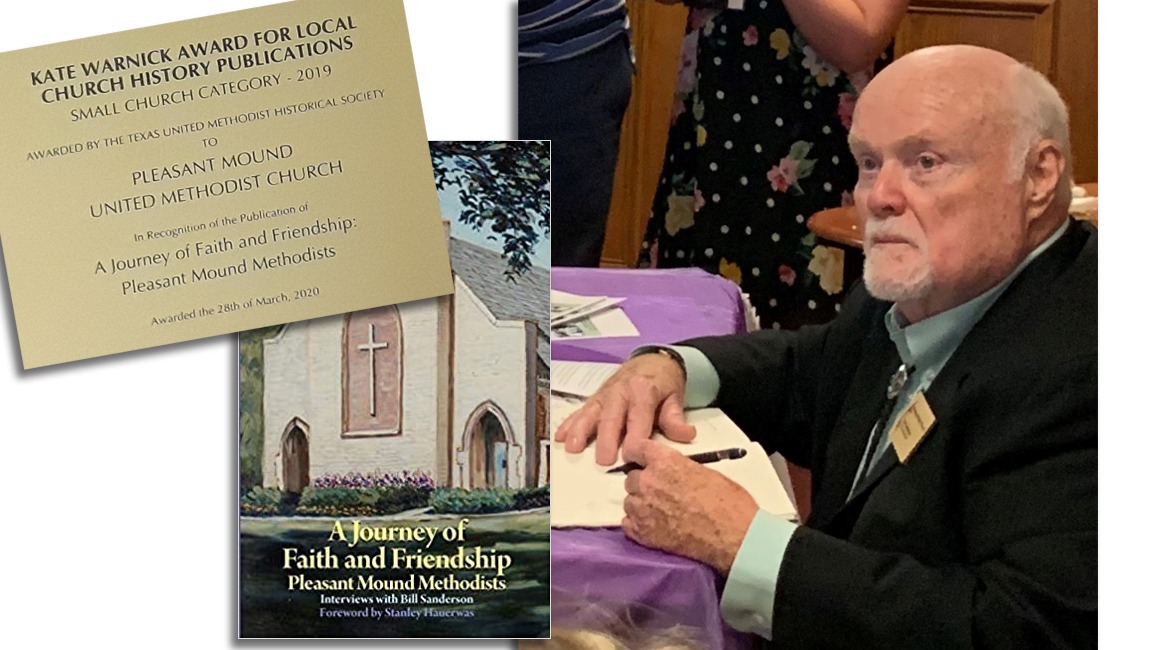 A Journey of Faith and Friendship: Pleasant Mound Methodists UMC written by Bill Sanderson wins the Kate Warnick Award
Since 1978, the Texas United Methodist Historical Society has presented the Kate Warnick award to exemplary local church histories from the eight Annual Conferences within Texas. This year, an entry representing the North Texas Conference — A Journey of Faith and Friendship: Pleasant Mound Methodists UMC – has won in the small church category.
The book is comprised of oral histories from current and former pastors, members and staff, conducted and edited by veteran journalist and church member Bill Sanderson. The book covers the history of the church, 1875 to today, and includes the changes in the community around the church.
The book features all facets of church life including the evolution of United Methodist Women. Sanderson interviewed almost all of the living senior pastors since 1976. The book's forward is by Stanley Hauerwas, a Methodist theologian who attended Pleasant Mound UMC growing up.
"Collecting, writing and building the Journey of Faith book was a one-of-a-kind experience where many hands reached out to help," Sanderson said. "It was, in fact, a blessing. I was gratified by comments from readers who were not former church members, how they discovered an untold history of Pleasant Mound/Pleasant Grove reaching back to the Frontier West era."
Sanderson's book was unlike other church histories reviewed by the committee.
"Both the love and honesty Bill Sanderson calls on to tell this story are remarkable," said Kent Roberts, chair of the Kate Warnick Award Committee of the Texas United Methodist Historical Society. "We have never read a local church history like this one. It is fascinating to work back and forth between the memories of the great and wonderful things that happened at Pleasant Mound UMC. It reminds us that every story where Christ is present is a good one and one worth telling."
The Kate Warnick Award was named in honor of the long-serving librarian at what is now the SMU Perkins School of Theology and Bridwell Library. She served in various capacities at the Bridwell Library from 1924 to 1979. In 1972.
The book can be purchased here.
Published: Wednesday, May 27, 2020