Black Archives Matter: Perkins archivist leads initiative to fill void

Exhibit of three bishops' papers is just a start of recording and sharing a rich history, Binkley says
Bridwell Library archivist Tim Binkley is leading the way in the Black Archives Matter initiative among the libraries at Southern Methodist University.
He has put together an exhibit on three African-American bishops who chose Bridwell, the library for Perkins School of Theology, as the repository for their papers. For Black History Month in February and to highlight the exhibit, Bridwell will host Rev. Dr. Zan Wesley Holmes Jr., pastor emeritus of St. Luke Community UMC in Dallas, as he tells his memories of the bishops — Ernest T. Dixon Jr., W.T. Handy Jr. and Rhymes Moncure — on Feb. 6.
Black Archives Matter arose from more students asking "for information about church history from the African-American perspective," Binkley said. "And as our student body diversifies more, I'm getting more requests for material that documents their own traditions."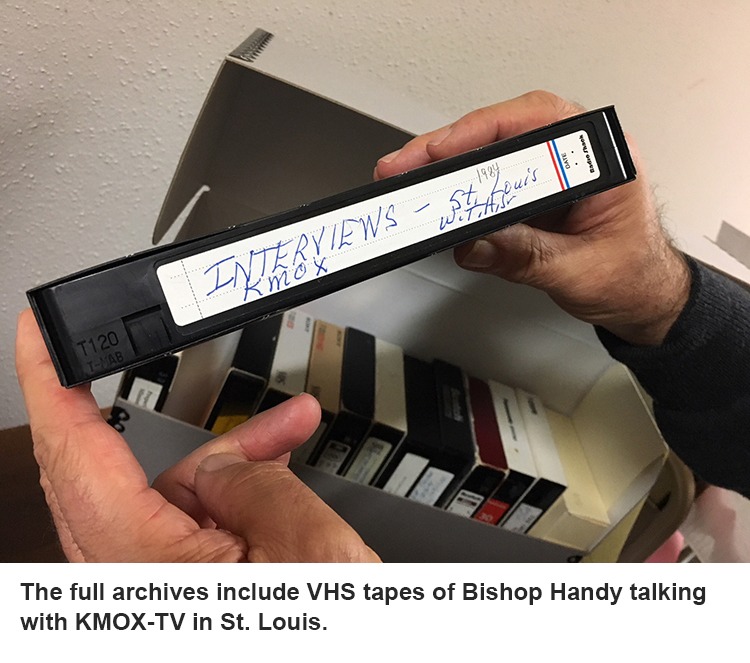 But Binkley quickly realized there was a problem. Bridwell has 275 unique archival United Methodist-related collections, but only five document black history. Those five collections consist of the three bishops, Texas Pastor W.M. Gibson and the Central Jurisdiction, into which The United Methodist Church placed all black U.S. congregations until segregation ended in 1968.
"Our five collections were totally unprocessed," he said. "Researchers can't use raw data very well, so it's the job of the archivist to study the material and organize records in a logical way."
That was in 2016. In early 2017, archivists from SMU's other libraries joined in to make Black Archives Matter a campus-wide initiative. Accompanying that work, the DeGolyer Library hosted an exhibition on baseball great Jackie Robinson last year, and the Underwood Law Library is presenting "J.L. Turner Sr., Pioneering African-American Dallas Attorney" through August. "Three African-American Bishops of The United Methodist Church" at the Bridwell runs through April 27.
Dr. Holmes, who spent hours in the Bridwell Library while earning his divinity degrees at Perkins, said, "To have that kind of concern for the development [of African-American archives], I really applaud Tim Binkley."
Dr. Holmes, 82, was friends with Bishop Dixon, who lived in the same neighborhood in Austin as he did, and with Bishop Handy. He knew both through the Central Jurisdiction, when "the whole structure of the church was designed along racial lines."
With Bishop Moncure, "we were colleagues. I knew him in the context of a working relationship." In fact, when Bishop Moncure was appointed to the North Texas Conference, Dr. Holmes gave him a tour of Dallas and its churches.
Although churches have come a long way in combating racism, "we must not fool ourselves" that there isn't more progress to be made, Dr. Holmes said.
Still, he said, "God's gift of diversity is one of His greatest gifts to the church."
Published: Wednesday, January 24, 2018