Banner Ministry Spent A Lifetime Marking Milestones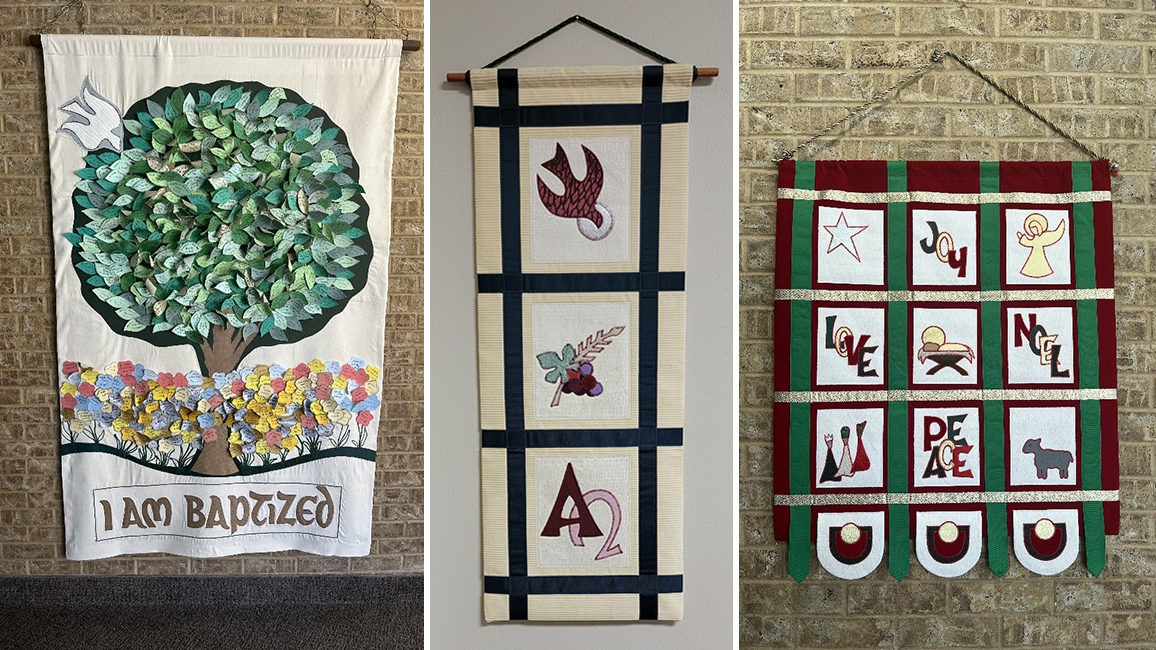 Ruth Gene Tucker created banners for church seasons and sacraments and to bless pivotal moments in people's lives
Rev. Scott Holcomb-McLain is the Senior Pastor Christ UMC Farmers Branch.
Ruth Gene Tucker's ministry through banners impacted my life two decades before I was appointed as her pastor. My wife, Pam, was gifted one of Ruth Gene's banners by another minister during her candidacy journey to ordained ministry in the early 1990s. Pam displayed the banner in her church offices in Winnsboro, Texas; Danville, Va., and Dallas. Pam gifted the banner to me to display in my church office, as I always wished I had one like it. (Thou shall not covet thy spouse's banner is commandment No. 11 – or it should be.) It was Ruth Gene's banner #360 and it greeted me nearly every day for 18 years in Irving, Heath, Van Alstyne and now in Farmers Branch.
For all those years, I knew the name of the banner's creator and how I became this banner's caretaker. However, I didn't know where this artist named Ruth Gene Tucker lived or worshiped. I didn't know her story. It was not long after I moved into my new office at Christ UMC Farmers Branch that a staff member saw Ruth Gene's banner on my wall and exclaimed, "You have one of Ruth Gene's banners!"
I then entered a wonderful journey of discovery about the woman behind the banner. My banner, which had lived as an only child for three decades, suddenly was surrounded by a bounty of banner siblings throughout the Christ UMC building and in the homes of so many members of the church. With each banner came a story, and most often, that story was about Ruth Gene and how she touched people's lives with her banners and her life.
One thing that strikes me about Ruth Gene Tucker's banner ministry is her influence and impact in the lives of people that she never knew personally. Ruth Gene's banners hang on walls not just in Farmers Branch, but around Texas and the world. They share a story filled with the symbols of our Christian faith that live through generations. A part of Ruth Gene's legacy is that one person who explores and cultivates her artistic talents can inspire others to do the same.
Ruth Gene spoke her truth through art. In paraphrasing Hymn of Promise: In her mind there was an image; in her heart, a vision, too; in her cloth, there was potential; simply needed a stitch or two; what began as a gift; became a ministry, unrevealed until its season, something God alone can see.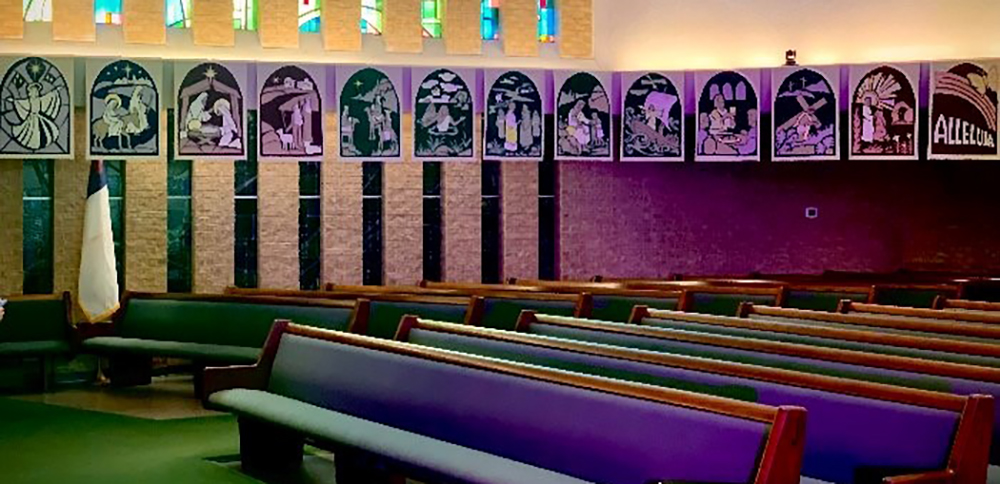 As I reflect on Ruth Gene's legacy, one word of encouragement I would share with others searching for a way to share their talents is this: first, focus on how you are wonderfully made and your uniqueness as a child of God. Perhaps too often, we focus on the desire to do something that will create great impact and transform the church or the world. We focus, maybe even worry, about destiny before we discern the journey.
I do not imagine Ruth Gene began her banner ministry with the goal to create a "banner ministry." She was gifted with an artistic eye and ability to bring her visions into reality. She simply wanted to create banners that expressed her understanding of her faith in a certain way and because her art connected with others, her artwork grew into a ministry.
The banner on my wall speaks to me twice each time I see it. Its symbols tell the story of our faith, and its creation tells me the story of Ruth Gene Tucker.
Ruth Gene Tucker joined Christ UMC Farmers Branch in the '70s and began using her artistic talents to create banners for church seasons and sacraments, and to bless new marriages and other pivotal moments in people's lives. She died June 24, 2022.
Published: Tuesday, September 6, 2022