Arapaho UMC Leverages Giving Day To Expand Live Like Luke Ministries

After losing a child to leukemia, the Childs family launches fund to ease the financial burden for other families going through pediatric cancer treatments
On Nov 4, 2020, Beth and Derek Childs got the news no parent should ever have to receive: their six-year-old son Luke was diagnosed with Acute Myeloid Leukemia.
Over the next year, the Childs family would endure a grueling journey as they lived primarily at Children's Hospital. After a brave fight, Luke died on Oct. 2, 2021. In his honor and memory, the Childs family has launched the Live Like Luke Fund to ease the financial burden for other families going through pediatric cancer treatments.
To some, that means supplementing a reduced paycheck, while others need help with transportation costs or food. Whatever the need, the fund's goal is to lessen the anxiety and enable families to focus their attention where it's needed most: beating cancer.
In a post for the Arapaho UMC blog, Beth reflected, "While that year was the hardest of our lives, we were held, carried, fed and loved by our beautiful community at Arapaho United Methodist Church." From prayers, meals, visits, shoulders to cry on and orange ribbons tied to trees all around the community (orange was Luke's favorite color), Arapaho UMC rallied around the Childs family.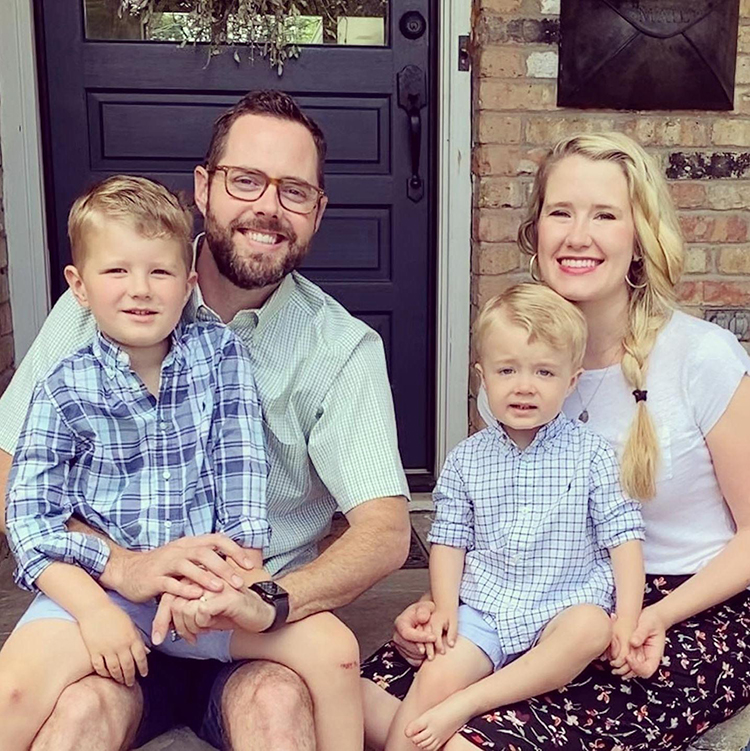 "It felt like the church was the hub of organizing efforts to support us," Beth said. "One desperate afternoon, we were in great need of clothes for Luke, and Pastor Cathy Sweeney dropped what she was doing, went and bought clothes and drove in five o'clock traffic to downtown from Richardson so that we could have what we needed."
The Childs know that not all parents have that level of support, so they not only created the Live Like Luke Fund but are also partnering with Arapaho UMC to launch the Live Like Luke Ministry that will provide support to other families like theirs.
"In the time that we stayed at the hospital, our eyes were opened to a world no parent ever thinks they will have to see," Beth said. "We were witness to small babies and toddlers alone in their rooms because their parents had to be at work. When a young child has to be left alone in the room, they put a mesh net around the bed to protect them from falling to the floor. Every time I walked by a room and saw the mesh net, my heart broke.
"We observed families torn between their multiple children at home and their sick one at the hospital. We saw Go Fund Me pages created in desperation so families could pay the bills and stay afloat while still being with their child during treatment. For people that are marginalized, a child's cancer diagnosis is not only medically and emotionally devastating but also financially crippling."
Senior Pastor Rev. Scott Gilliland has been inspired by the Childs' journey. "Beth and Derek are courageous in their vulnerability, and I'm inspired by the way they tenaciously follow God's call to bring something redemptive and good out of such tragedy and grief. They have invited the Arapaho UMC family, and the larger community, to share not only in their grief, but in their hope as well. I find that beautiful."
Rev. Gilliland is gratified to see his congregation live up to their membership vows to care for one another through all seasons of life. "I have witnessed this congregation model what it means to be one body of Christ," Gilliland said. "It extends beyond this congregation, too. FUMC Richardson was incredibly generous in offering their sanctuary and staff to help with Luke's memorial service; orange bows were tied around trees throughout the local ZIP codes; and I saw people extending support throughout the state and beyond.
"These incredibly dark moments have a way of also revealing so much compassion and love in the midst. Arapaho UMC will continue to grieve, just as the Childs family continues to grieve, but we will also find hope in the redemptive work that God has called us to. I'm grateful to journey with them."
Donations made to Arapaho UMC as part of North Texas Giving Day on Sept. 22 will contribute to the Live Like Luke Fund and help launch the Live Like Luke Ministry to ensure that all families coping with childhood cancer will have the support they need and will know they are not alone.
For more information about Live Like Luke Ministry and how to get involved, email Rev. Scott Gilliland.
Published: Wednesday, September 21, 2022