'An Ever-Expanding Circle Of Common Ground'

Fourth-graders at Wesley Prep developing friendships with, learning about nearby refugee children
Each year, Lori Cousino's fourth-grade class at Wesley Prep conducts the Common Ground Experiment. It's a way for students to get to know someone outside their community.
This year's project led her class to meet other children who attend Heart House, which provides after-school and summer programming specifically for refugee children. Eighty-five percent of Heart House children are displaced from their homeland due to crime and political instability. The center provides academic, social and emotional help.
"I feel a deep sense of responsibility to make the most of this special time in my students' development," Cousino said. "I want them to remember where their identity is grounded and choose to spend their lives loving God and others."

Wesley Prep is a private Christian school and ministry of Lovers Lane UMC. The school teaches children from six months to sixth grade.
Cousino said she believes her job is more than teaching academics. In the fourth year of guiding her class to work with those who are marginalized, Cousino looks for groups the children can connect with and form friendships.
In the past, Wesley Prep worked with Austin Street Center and Bonton Farms/Cafe Momentum. This year, the class decided to work with refugees.
"We have the privilege of hanging out with kindergarten, first- and second-grade children at Heart House after school every Friday," Cousino said. "We spent the fall semester getting to know one another and learning about the refugee crisis in the world and in our community."
The Wesley Prep students received an education on the plight of these children and gained friendships they would not have known.
"I didn't know what a refugee was," said Avi, one of Cousino's students. "There is much more to them and a lot to learn."
---
A selection of comments from the Wesley Prep students:
Jessica – "Before the Common Ground experiment, we just watched videos of other classes. My perspective has changed."

Lyla – "I hope they see children can do as much as anyone."

Trey – "We widen our circle."

Abby – "I hope it inspires other kids and other people."

Elizabeth – "The refugees were amazing people that everyone can connect with."

Tres – "They may have been someone's best friend. You had to go without anyone knowing where you were going. You weren't able to say goodbye to your friends."

Victoria – "I hope that people see refugees are humans too."

Nahomy – "When I'm older, I want to keep helping refugees."
---
After Gov. Greg Abbott said Texas would not participate in the refugee resettlement program, Wesley Prep students took action on behalf of their new friends. They wrote letters to Gov. Abbott and sent letters to the editor of The Dallas Morning News.
Said Sebastian: "I hope people will see how we see them. More than 51 percent of the refugees are children. Every child should have toys and stuffed animals."
Wesley Prep students also decided that creating a book with inspiring words for each letter of the alphabet was a good way to honor their new friends. The book – entitled Heart Words: An Alphabet Book of Inspiring Words to Guide You Home – was a collaborative effort with the Wesley Prep and the Heart House children creating collages for each letter.
Each collage includes the word in English and in the languages spoken at Heart House. To get the translations, the words were sent home with the Heart House children for their parents to translate. The rhymes were written in Cousino's class.
The book, now being printed, will be available for purchase at a launch event 6 p.m. April 17 at Interabang Books. The original artwork will be auctioned online.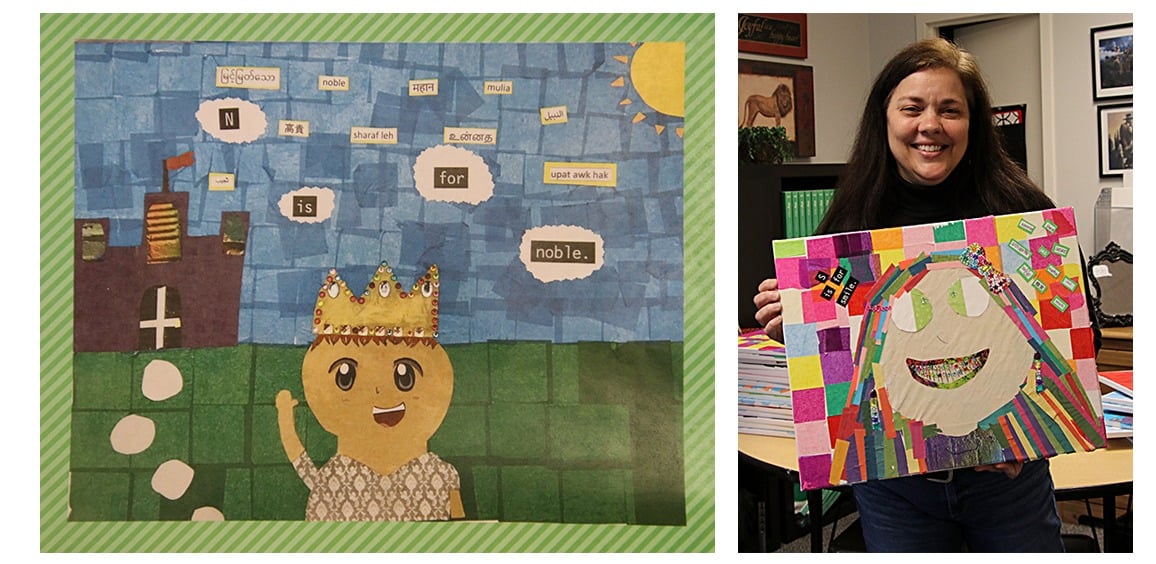 "Our goal is to create an ever-expanding circle of common ground in an effort to strengthen all of us," Cousino said. "We are better together."
With the help of this project, the Wesley Prep students are optimistic about what's ahead for everyone.
"If we keep this mindset into the future, we can help more generations," Emilio said. "We can wipe out the things that happen with refugees."
If you would like to order the book or are interested in having Cousino or her students speak to your group, click here.
Published: Tuesday, March 3, 2020