A walk with Jesus in North Texas labyrinths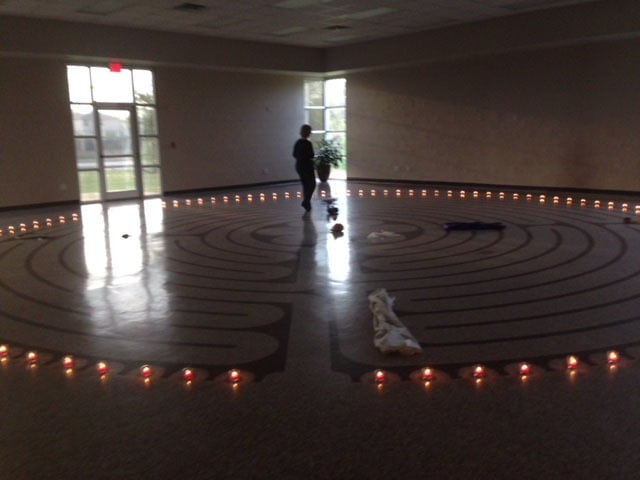 Indoor or outdoor, churches help calm and spiritually center their users
Around the North Texas Conference, labyrinths are helping people in their spiritual walks.
You may think of labyrinths as a New Age fad, but many are based on the one at the medieval Chartres Cathedral in France. And they are really about centering yourself spiritually, advocates say.
In the NTC, labyrinths are as far-flung as Seven Points, where Aley UMC built one by a pasture, to as close in as Perkins School of Theology, near Dallas' core. A quick count shows roughly 10 at United Methodist Churches in the conference.
Kathy Norrod, a member of Trinity UMC in Duncanville, is so serious about the benefits of labyrinths that she became a trained facilitator through Veriditas, a faith-based program. She tells walkers about the history and geometrics of labyrinths, puts on music, directs them into the pathway in Trinity's Fellowship Hall and walks along the edge while participants work their way inward. After they exit, she helps them explore their emotions.
The labyrinth at Chartres, built about 1200, was designed to simulate a pilgrimage to Jerusalem at a time when the journey was dangerous, Norrod said. A walk to the center represented reaching Jerusalem, the walk back out the trip home.
For modern-day users, walking the labyrinth is calming, Norrod said. People with health troubles or facing a crisis often come away with a new perspective or solution, she said.
The Trinity labyrinth is the same pattern and diameter, 40 feet, as the Chartres one, and is made of water-jet-cut tile, laid in the floor. On Maundy Thursday, worshippers can walk the labyrinth, encountering "items that relate to Jesus' last week, such as his robe, 40 pieces of silver, crown of thorns, a rooster for the cock crowing, a whip and strips of cloth to represent the wrapping of his body for burial," Norrod said.
For Cathy Williams, wife of Pastor Eston Williams, the labyrinth that she and her mother built at Aley UMC represents the realization of a dream. They had researched and visited other labyrinths before picking a spot outside the church where "the only thing happening with it was it was being mowed over and over." The path, made of pea gravel and outlined in white rock, includes benches where members can rest.
Sometimes as she enters the labyrinth, Cathy Williams picks up a rock. "If there's something I'm wanting to let go off, a worry or fear, that [rock] represents that. When I go in, I pray about that." At the center, she leaves the rock on the bench there as a expression of "moving on and trusting God."
With the pastoral setting, she sometimes takes her "shoes off to feel the earth. It's energizing, connecting with the earth — grounding." And to walk a labyrinth with a child, "that's a different experience, too, going at their pace," she said.
Trinity, Aley and other churches offer paper or cardboard replicas of their labyrinths, giving those unable to walk a chance to trace a finger over the path and experience the spirituality.
Where to find a labyrinth
The locations of North Texas Conference labyrinths, according to labyrinthlocator.com:
Aley UMC, Aley (Kemp area)
Chapel Hill UMC, Farmers Branch
First UMC Allen
First UMC Denton
Habito Labyrinth, Perkins School of Theology, SMU, Dallas
Holy Covenant UMC, Carrollton
Kessler Park UMC, Oak Cliff
Northaven UMC, Dallas
Trinity UMC, Duncanville
University Park UMC, Dallas
Published: Tuesday, January 9, 2018