A Visit to the Border Leaves Team with Questions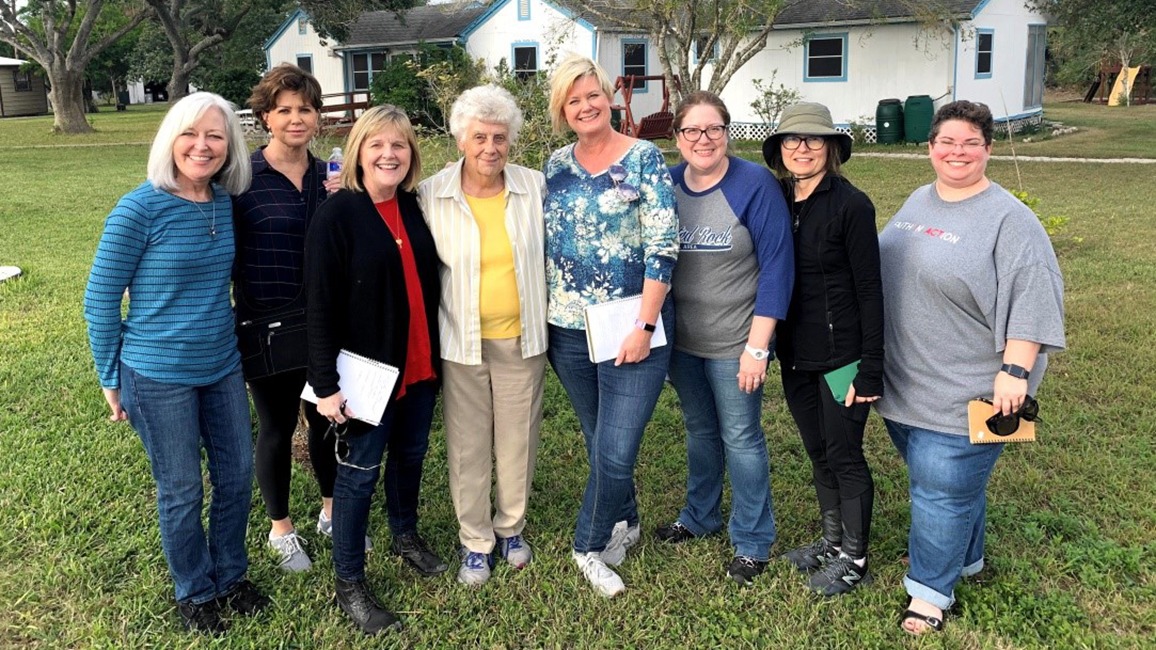 Group comes back confused, but hopefully, focused on the people and acts of compassion and kindness it witnessed
A young Guatemalan mother and her baby with asthma camped under a tarp, unable to find her husband and five-year-old son. Toddlers played in a makeshift campsite. A family from El Salvador fled in fear of gangs demanding money and threatening their lives – people we met in Matamoros who were waiting for weeks, some for months, at the official port of entry to cross the bridge into Brownsville, Texas, and request asylum in the United States.
As part of the Courts and Ports initiative of Texas Impact/Texas Interfaith Center for Public Policy, six members of First UMC McKinney and one from First UMC Richardson traveled to the southern border in December to observe border enforcement activities and serve as court monitors in federal criminal court trials. Our goal was to see firsthand to better understand what is happening and offer a faithful witness in sharing the stories.
We crossed over the border into Matamoros with Elisa Filippone from the Brownsville refugee assistance group Angry Tias and Abuelas of the Rio Grande Valley. She and a coworker each carried multiple backpacks full of hygiene items, baby bottles, water and food to distribute to people waiting at the border in Mexico for permission from U.S. Customs and Border Protection (CBP) to cross the bridge and request asylum in the United States. Since last summer, CBP stops asylum seekers on the bridge over the Rio Grande before they can cross the international boundary into the U.S. and make an asylum claim. The flow is so limited that days can go by with only a few or no people allowed to enter at the port of entry.
Four people from Nicaragua were next in line on the bridge within steps of the U.S. border. Volunteers brought them food and water so they could stay in line and not miss their turn. Asked why they wanted asylum, they described horrific disappearances and assassinations in their home country since mid-April. They reported that CBP had processed only two people the day before. We met people who had waited outside in the weather for months hoping for a chance to cross. When we eventually walked back over the bridge to the U.S., we waited in a short line for U.S. passport holders inside the port office building. We saw the adjacent room for processing asylum petitions. The large room with rows of chairs, restrooms and water was empty, while people waited for days just a few feet away outside in the open air and families waited for months just beyond in tents. We left with questions about asylum processing.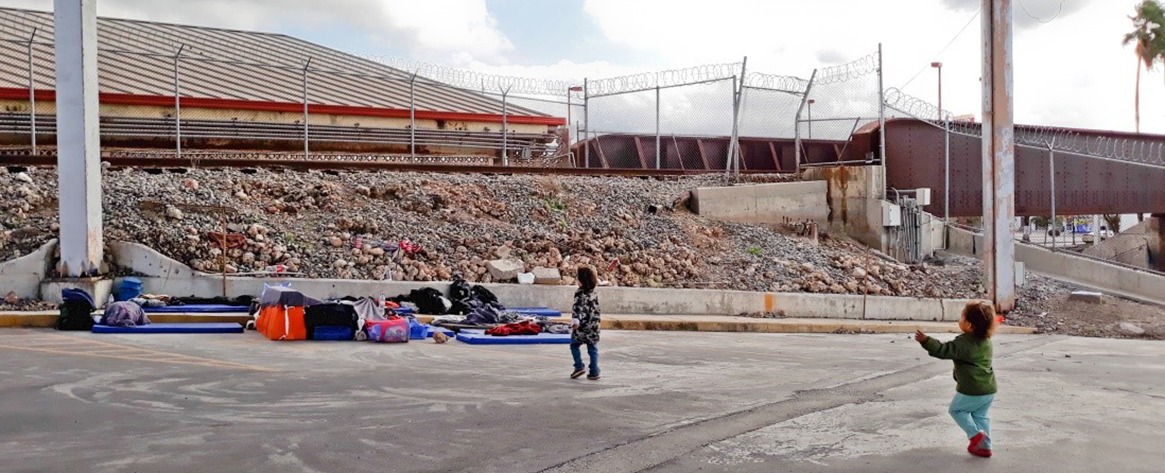 We observed federal criminal court proceedings for people charged with unauthorized entry. In just two hours, 50 men and women were tried and convicted as a group, all represented at the same time by a single public defender. Each defendant would have had no more than about four minutes of time to consult with their attorney beforehand. Before zero-tolerance enforcement, these cases were not required to be tried in federal criminal court, but they now overwhelm the system. The migrants sat solemnly through the proceedings, their hands shackled to their waists, some just 18 years old. They could barely raise their right hands to take the oath. We left with questions about due process.
At Sacred Heart Catholic Charities Humanitarian Respite Center in McAllen, Texas, we volunteered under the direction of Sister Norma Pimentel. In three hectic hours, 350 people wearing ankle monitors arrived from detention centers to eat, shower, change into fresh clothes and receive help booking bus tickets to stay with relatives throughout the country and await asylum hearings. Most were very young families with children. They were grateful, tired and happy to be out of detention. We took turns holding a two-month-old baby while his mother ate a bowl of soup, searched through a pile of donated clothes and cut her pant leg away from the ankle monitor clamped over her only pair of pants so that she could shower and change. We left wondering how the volunteers would be able to take care of so many people still needing help.
La Posada Providencia Shelter in San Benito, Texas, is a peaceful respite providing resettlement assistance and training to immigrants and asylum seekers from all over the world. Sister Zita Telkamp gave us a tour and introduced us to refugees from Congo, Eritrea, Zimbabwe and Central America. We met a young woman from Guatemala in the classroom studying English with a volunteer. It was her first day there, having aged out of youth detention that same day – her 18th birthday. Words displayed on the dining room wall served as a reminder that we are "many cultures, one family in God." Sister Zita told us that as God calls us to welcome to the stranger, she thinks of them not as strangers, but as our brothers and sisters. We left with hope.
The compassionate efforts by communities on both sides of the border help us see hope in the story that we so often hear narrated with fear-inducing rhetoric about invasion, criminals, terror, defense and walls. In just two days, we met so many people who had walked away from the only homes they had ever known to make uncertain journeys. We heard stories of violence, murder, rape, poverty and loss. The images of little children and babies and the anxious eyes of young men and women, mothers, fathers, and grandparents weigh on our hearts. They spoke of wanting to be safe, to work and to make a better life for their families.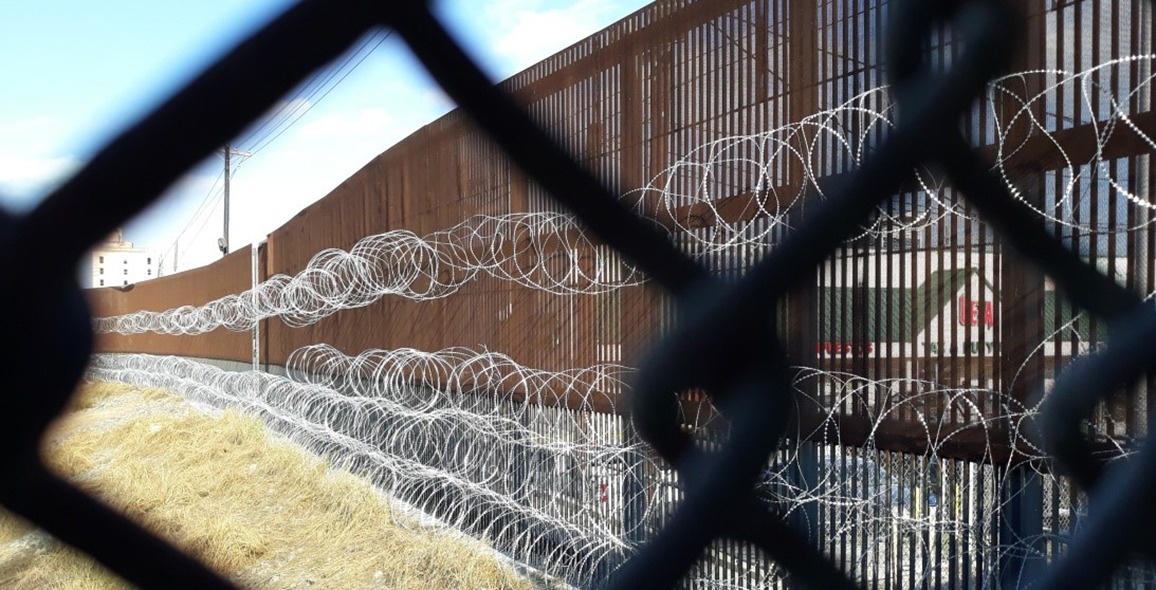 Somehow, beneath the layers of exhaustion and uncertainty, they cling to faith and hope. We heard hope in the words of the young mother from El Salvador, camped outside at the bridge for two months with her husband and two little children, waiting to request asylum. She said that life waiting in the camp was "a thousand times better" than back in her home country. "My family is safe, and I know God will take care of us."
Our team has searched for words to describe the enormity and complexity of the humanitarian crisis. We tried to draw a flowchart with rectangles and arrows to diagram the asylum process. Eventually, it became a page of scribbles with boxes and words like bridge, port of entry, detention, icebox, Ursula, court, shelter, bus station ... . Our internal scribbling continues with a growing list of questions as we look for ways to advocate for just and reasonable legislation and join efforts to not just mitigate suffering, but to pursue systemic change.
Through it all, we remain focused on the people and tune in to hope found in acts of compassion and kindness that recognize our shared humanity. Hope is found in the work for fair and sensible systems guided by truth and reason. Ultimately, hope is found in our Creator, whose love knows no bounds, who brings order out of chaos and shines light through the darkness. We have many questions, but we know that faith, hope and love abide. In God's grace, may we have the faith and hope to stay the course with open hearts to share love freely with our neighbors, each one God's beloved.
Rev. Patty Froehlich is an ordained United Methodist minister serving at First UMC McKinney and is chair of the North Texas Annual Conference Order of Deacons.
Supporters of Courts and Ports include the North Texas Annual Conference of the United Methodist Church, United Methodist Women and the United Methodist General Commission on Religion and Race. For more information about Courts and Ports and to learn about efforts to help, email Texas Impact's Erica Nelson or Director of the NTC Center for Missional Outreach Rev. Andy Lewis.
Published: Monday, January 7, 2019