A Regional First: Disaster Training in Spanish

Speaking in mother language crucial in crises, organizer says
Early Response Training has prepared many a United Methodist for pitching in on cleanup after a disaster. Now the sessions, required before Methodists can participate in trips such as those to help Hurricane Harvey victims, are opening the doors wider to more volunteers with classes in Spanish.
In fact, the North Texas Conference recently held the first Spanish-language ERT class in the South Central Jurisdiction.
Luis Morales, ERT trainer for the United Methodist Commission on Relief, led the classes, complete with a new training book in Spanish, said Janet Bell Odom, the North Texas Conference's disaster response coordinator. The daylong session took place June 9 at First UMC Rowlett.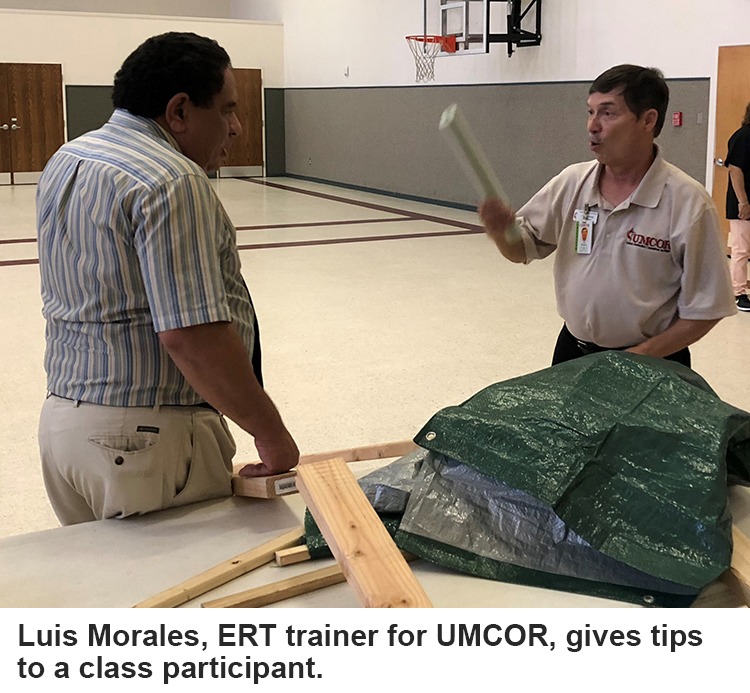 "Luis Morales is usually in Puerto Rico," Odom said, so scheduling him was "a great opportunity." Morales has been spending much of his time on the island since hurricanes Irma and Maria struck in September 2017.
First UMC Rowlett has first-hand experience in disaster relief. On Dec. 26, 2015, tornadoes swept through North Texas, resulting in 13 deaths. Rowlett was one of the hard-hit areas.
Associate Pastor Georgiennette Haddock, who leads Hispanic ministries at First UMC Rowlett, expected to sign up 15 people for the Spanish-language sessions. Instead, 18 registered on the spot at services June 3 and Haddock fielded calls from more. In all, 21 took the class, and, with others who wanted to participate but couldn't make it that day, the demand is strong, Rev. Haddock said.
The sessions are needed, especially considering the effect of Hurricane Harvey on the Texas Gulf Coast and the volcano eruption in Guatemala.
"In a time of crisis, people want to speak in their mother language," Rev. Haddock said.
She can attest to the importance of communicating in a person's first language in the confusion following a disaster. For 15 days, she did not know whether her parents back home in Puerto Rico had survived after Hurricane Maria. She was especially worried about her father, who was in frail health.
She is now housing relatives from Puerto Rico as the island struggles to recover.
Rev. Haddock sees another advantage to the Spanish-language classes. When volunteers head into devastated areas, she said, "We let the people know who the Methodist people are, how we believe, why we are serving God. They can see God through us."
To find out more about the classes, contact the Center for Missional Outreach at 972-526-5000 or email Rev. Haddock.
Published: Wednesday, June 13, 2018