"One Pastor, One Church" Isn't Always That Simple
What is "Why, Wesley?"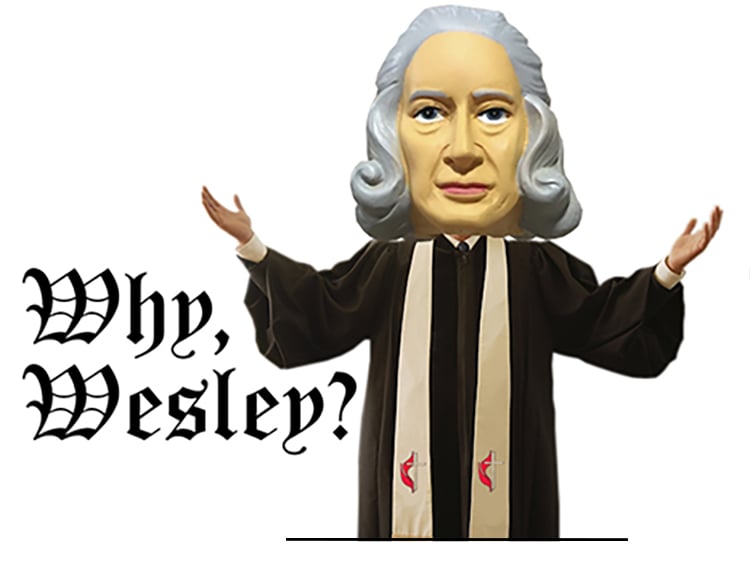 Ever wonder why United Methodists believe in certain things or act the way they do? Or maybe there's something specific about what's going on in the North Texas Conference that's racking your brain. Here's an opportunity to ask your questions and let the North Texas Conference communications team search for the answers.
Say hello to "Why, Wesley?" a new feature that we hope sparks engagement from our readers as a way to learn more about Methodism. Fill out this form with your question, and we'll be sure to recognize you as we provide answers in an upcoming issue of the North Texas Connection.
***
Question: I've seen appointments where a pastor is charged with two or more churches – how do they manage all those churches and people?
Managing multiple churches, known as a multiple-point charge, is as old as Methodism. John Wesley believed pastors should be itinerant – going where the Bishop sends – moving from place to place on a circuit that could be 200 to 500 miles. Wesley is said to have traveled 5,000 miles a year on foot or horseback, preaching and starting new Methodist societies.
Circuit riders relied on the kindness of others for a place to stay and a meal. They were exposed to illness, animals and unfriendly encounters. It was a risky job, and many died young.
Around the 1900s, station charges – one-church charges – made some circuits obsolete as people moved to cities. Better roads, cars and technology made it easier for congregants to travel to church.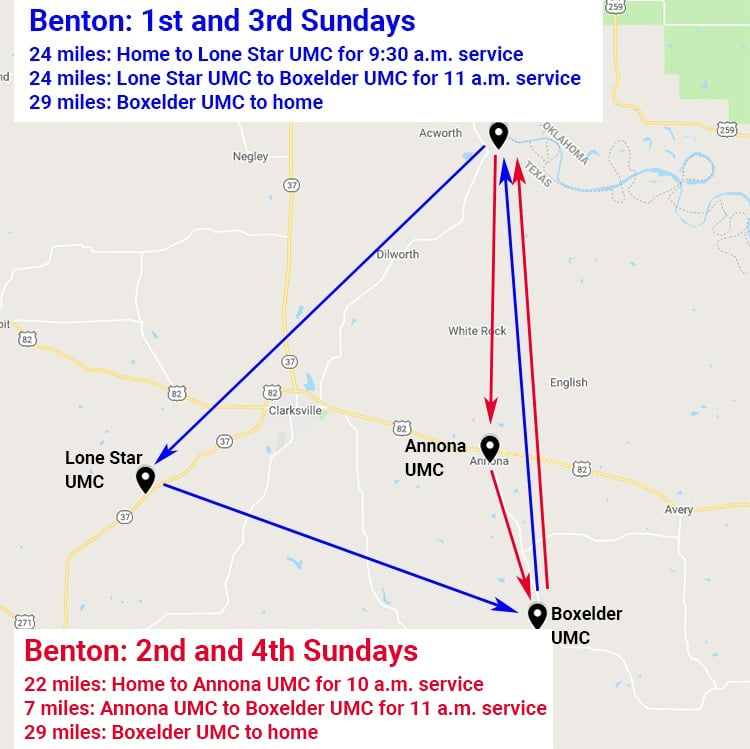 Circuits still exist in rural locations or where costs require churches to share a pastor. In the North Texas Conference, 27 multi-point charges (two to four churches) exist.
Dink Benton, a part-time local pastor, manages a three-point charge of Lone Star UMC, Annona UMC and Boxelder UMC. The first and third Sunday, Benton drives 77 miles roundtrip from his home to lead worship services at Lone Star UMC and Boxelder UMC before returning home.
The second and fourth Sunday, he drives 22 miles to Annona UMC for worship then drives seven to Boxelder UMC before returning home. Pastoring three churches, however, is not his only occupation; he also is a rancher.
Benton likes serving the small 20-30 member churches "because of all the different people, getting to visit everyone and getting to know them instead of the same old thing each Sunday. The churches are so small, I get to know them like family."
Benton added, though, that managing what church to go to on Sunday comes with fears. One night, Benton had a dream that he arrived at the wrong church on the wrong Sunday.
Lone Star UMC houses two separate Methodist congregations – a Congregational Methodist Church and a United Methodist Church – that worship together. On the Sundays Benton doesn't preach, the Congregational Methodist pastor leads worship.
Rev. Chad Mogus manages the two-point charge between First UMC Boyd and Rhome UMC. He pastored Rhome UMC for four years before adding First UMC Boyd a year ago. When that happened, adjustments were made to the worship schedule for him to serve both churches every Sunday. He leads services at Rhome UMC first and then drives 11 miles to Boyd UMC.

Organization skills were required to take on the additional church.
"I have divided up my time and days between the churches and when I will be in the office at each church. I usually can cover most of the responsibilities in the days that I am at each church but some overlap does happen," Mogus said.
Part-time local pastor Valleri Sewell serves a two-point charge for Bryson UMC and Perrin UMC which are 30 miles apart. She leads worship at both churches each Sunday. When a month has a fifth Sunday, the two congregations combine and worship together.
"I like the chance to bring God's Word to people in the ways that are most meaningful to them," Sewell said. "Having two different churches allows more opportunities to find ways to do that in unique ways."
In small churches, Sewell said members of the laity are very important and help the ministries of the church.
"The burden of having to take care of all of the details of the church can be overwhelming, but it causes me to ask for help from others and be better at delegating," she said.
Have a Question for Why, Wesley?
Published: Wednesday, September 4, 2019