A Double Blessing At Creekwood UMC

Monthly respite for adults with special needs packs 50 UMCOR Hygiene Kits before spring dance
March is Developmental Disabilities Awareness Month, but for Creekwood UMC, every month is an occasion to celebrate disabilities awareness.
On March 3, Creekwood's Open Door respite for special needs adults packed hygiene kits for the United Methodist Committee on Relief (UMCOR) and enjoyed their spring dance afterward. The hygiene kits include a washcloth, hand towel and key toiletry items that will be distributed to those who have been forced to leave their homes because of human conflict or natural disaster.
As the participants packed kits, they shared stories from their week and reconnected with their friends. Open Door is modeled after First UMC McKinney's Gateway program and provides parents and caretakers a much-needed break while their loved ones enjoy a meal, a monthly birthday celebration and an entertainment program or mission project.
In 2019 when church members realized there was a specific need for an adult respite program in the area, a core team of laity launched Open Door with the help of Rev. Keri Lynn Lucas. "Many respite programs are for kids, and that's great. But we wanted to tailor our focus to adults because of the need," Pastor Lucas said. "We hope our guests feel loved and appreciated and that there's a space specifically for them."
Rebecca Hempkins has been involved with Open Door since its inception and as a parent of a special needs teenager, she understands the positive impact this ministry has on parents. "When I look at it from the parent perspective, if a parent feels comfortable bringing their kid here and they can leave and go do something, that's huge because they don't really get any time to themselves," Hempkins said.
She also points out the positive benefit Open Door has on the guests' socialization and connections. Some people came at first only because their parents brought them. "Now I don't see anyone walk in the door that doesn't know someone or have a friend waiting for them to get here. They're so excited to see each other," Hempkins said. "Friendship is so important and it can be difficult for some of our friends who don't communicate as well as others, but they have a lot to say and everybody wants to feel important. I can see the difference as they keep coming back. I've watched the impact grow."
Participant Nick Mathers said his favorite part is seeing all his friends.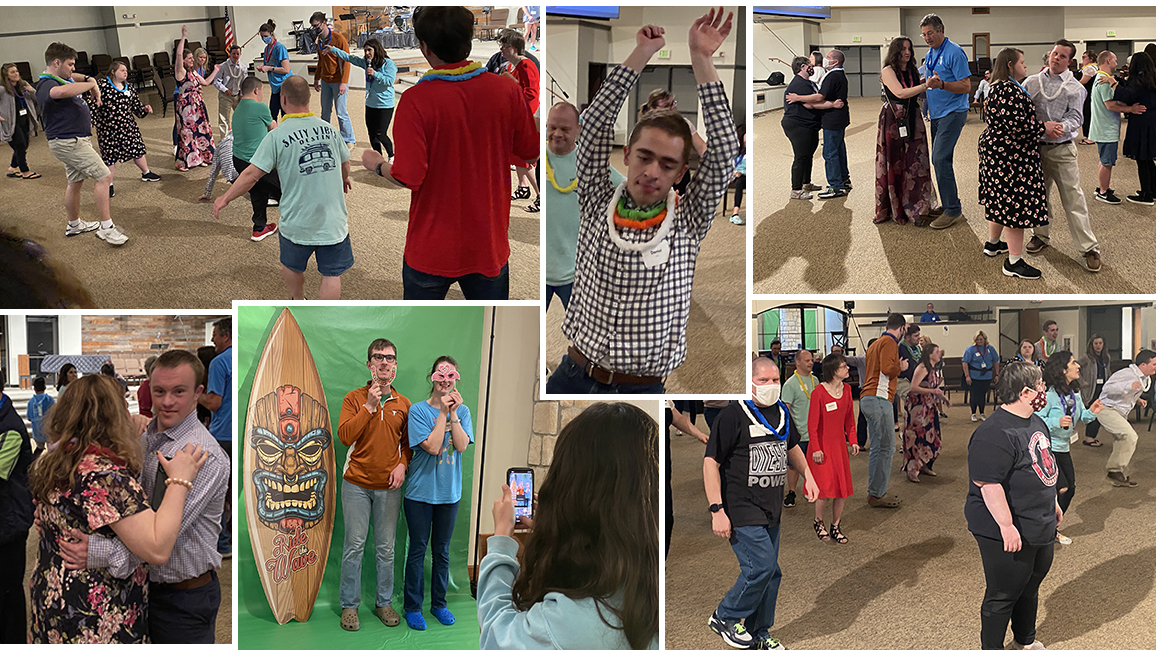 For retired special education teacher Barrie Heres, she treasures the opportunity to serve the adults with special needs and to place them at the center of attention. She also enjoys serving with her extended family. Daughters Helen and Hannah and granddaughter Monroe all serve alongside Harris and her husband Pete who helps with security.
Second grader Monroe Fendley enjoys coming every month and sharing life with her Open Door friends. "I really like talking with the people, and the monthly themes and getting to dance and have fun," Monroe said. "I think we're more the same than we are different, and I hope more people can get to know that."
"This is one of the only things we have where you can volunteer with your whole family," Rev. Lucas said, "and these kids are growing up not knowing people with special needs are different. I think for us, sometimes we don't know what to do with adults with disabilities. We're thrown by the ableism that our world continues to allow to exist. So this is great education and exposure."
Christie Hermann serves as the Director of Open Door and comes to this role with 20 years of experience as a Special Olympics coach. She provides training for volunteers to make sure everyone is comfortable with special needs and has found multiple ways for people to be involved. At the March 3 event, almost 30 volunteers filled various roles checking people in, taking photos at a customized green screen photo booth and serving as table hosts and room hosts. Small groups from the church also help provide the meal each month.
Hermann brings her brother as a guest each month and appreciates how this has impacted him. "We have a great time when we're here so it's easy to stay motivated. And it's always growing and it's always getting bigger. My hope for the future is to reach more and more special needs adults to provide a loving and welcoming environment to bring joy to them and their families," Hermann said. "I also hope that as a church, we will soon be able to provide a regular Sunday school class for special needs adults to meet on a weekly basis and study the Word of God."
Organizers hope Open Door ministry will reach more adults with disabilities who might be isolated and in need of connection. They recognize the need is great and hope to draw in more people to experience this great community.
To learn more about Open Door email Christie Hermann.
If your church, class or community group would like to participate in efforts to support UMCOR, email Disaster Response Coordinator Jeremy Basset.
Published: Wednesday, March 9, 2022