A&M Commerce, UT Dallas: Campus Ministries Make Big Impact

The Wesley named best campus organization
Inside an unassuming building on the edge of campus, the Spirit is moving among young adults who are discipling the next generation of leaders in campus ministry. The Wesley at Texas A&M Commerce has gained the attention of many across campus and was awarded Outstanding Student Organization of the Year.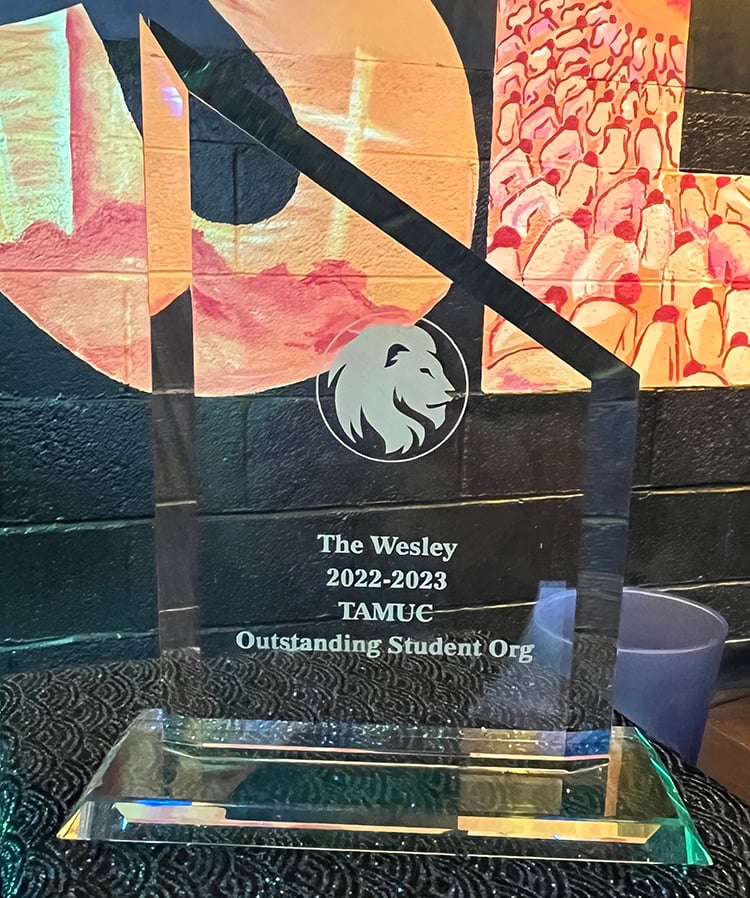 While Rev. Christina Hardy, the campus minister, came on board in February 2023, the work of The Wesley had already been growing under the leadership of three students.
KenToria Randall, Kayla Rose and Charity Wright stepped up to lead the United Methodist campus ministry at Texas A&M Commerce during the fall and early spring semesters while in a season without a full-time campus minister. Through word of mouth and a ministry of hospitality and invitation, these women have grown the Wesley to more than 35 people attending regularly.
"It took a lot of prayer and communication and support from one another to get the job done," Rose said. "We stayed prayed up."
Randall recognizes that their testimony has an impact on campus. "People text me and say 'Can you pray for this?' and it helps because we know what people are going through," she said.
Their connection to their classmates has helped these leaders build a strong community of faith. Wright said: "People need to know that The Wesley is here. We were bringing in more people to know God is here to help, and we are too. The other students showed us they wanted to get deeper in God's Word so we're a place for that."
The Wesley offers a weekly Bible Study on Wednesdays and worship and community events every other Thursday.
The student leaders also underscore the importance of the financial support they receive from individual donors and partner churches to be able to stay in operation.
"If it wasn't for the doors being open here and us pouring into people, I feel like people wouldn't be where they are today," Rose said. "We've seen people come in and not really know God and ask us to teach them how to pray, and now they're actually seeing how God is showing up in their lives. They went from no faith to actually believing that there is a God."
The three student leaders are paving the way for their successors.
"Each one of them prayed and discerned who should be in their role next, so they saw giftings in others and specifically identified the next leaders. They will be discipling their next intern so they're already pouring into them ahead of next semester," Hardy said. The leadership team will participate in a bible study on discipleship in the gospel of Mark, and they'll be equipped to disciple their next interns coming in as Randall, Rose and Wright prepare to graduate in December.

Synergy Wesley receives TMF grant
As we recognize May as Mental Health Awareness Month, one reason to celebrate is the impact Synergy Wesley at the University of Texas at Dallas is making on student well-being through a newly funded program.
"Our TMF grant provides for the social, spiritual, emotional and mental health needs of college students through access to therapy, spiritual direction and Circle of Trust small groups," said campus minister Brittany Melrose.
Synergy Wesley received $20,000 for the 2022-2023 school year, and that award has doubled to $40,000 for 2023-2024. Funds for mental health therapy supplement students' insurance copays or available personal funds for sessions when they are unable to access free therapy at the school counseling center. They can see therapists either online or in-person and can choose a therapist with appropriate specialties and compatible identities.
"The college years are a time of immense change and self-discovery and also a time when many students struggle with depression, anxiety and other mental health issues," Melrose explained.
National research shows that more than 40 percent of college students report being too depressed to function most days, more than 60 percent say they feel overwhelmingly anxious, and more than 1 in 10 have seriously considered suicide in the past year (Santos, Laurie; Yale University, 2021).
Students at UTD have access to mental health resources through the school counseling center, but therapy is limited to six sessions per year with a variable waiting period as priority is given to students in crisis. As a result, many students are left waiting for therapy to begin and are unable to continue therapy past six sessions because of financial barriers.
There is also a great need for spiritual support during college, so that students may self-reflect, discern their beliefs and vocational calling, and listen for the voice of God through the stress of classes and extracurriculars.
Melrose underscores the role the Wesley can play in students' holistic development at a pivotal time in their lives. "Campus ministries are uniquely postured to empower students to connect with God, their inner selves and with community during college, and to provide holistic support for their spiritual, social, emotional and mental health," she said.
TMF funds also provide students with access to one-on-one spiritual direction to deepen their discernment, prayer life, connection with God and spiritual practices. Spiritual directors are clergy or laypeople who have undergone special training in the ancient practice of spiritual direction; of listening and helping a directee reflect on and identify the movement of God in their lives.
TMF funds also support students through small groups rooted in Circle of Trust principles with a trained facilitator through the Center for Courage and Renewal. These meetings help students to listen deeply to the inner voice of God, to grow in their understanding of themselves, to discern their calling and to support their peers as they do the same.
Through the offering of therapy, spiritual direction and Circles of Trust, both in-person and online, Synergy Wesley Foundation supports students to have improved holistic well-being and equanimity, to deepen their discernment and to live more fully into their call to be and make disciples for the transformation of the world.
What students are saying:
● "Before I heard about Synergy Wesley's Spiritual Direction program, I didn't know what spiritual direction was. Now, I wish everyone knew about it and its ability to help people grow in their faith if they are willing to put in the work." - UTD, Senior
● "Synergy Wesley has been a major help for me. I've struggled through a lot without access to proper mental health resources in the past, so when I found out that Synergy Wesley would allow me to finally get the resources I'd needed for so long, it felt like I had finally gotten the life raft I needed to help weather the storm." - UTD, Junior

● "This therapy program found me at a time when I was ready to give up on therapy entirely. But having a therapist that I feel I can connect with and open up to has helped me keep an open mind and heart." - UTD, Junior

● "I know I have always wanted therapy, but there's so many people without the means to seek it out. The fact that there's a program like this is beyond amazing." - UTD, Sophomore

● "I felt like I had nowhere to go for help until I found the Synergy Wesley's free therapy program. I'm really grateful that this service has been provided to me for free so I can take charge of my mental health." - UTD, Junior
Published: Wednesday, May 17, 2023