'A Journey of Peaks and Valleys'

First UMC Howe pastor, wife share experiences of adoption process
November is National Adoption month, a month set aside to raise awareness about the urgent need for adoptive families for children and youth in foster care. Rev. Zack Landis, senior pastor at First UMC Howe, and his wife, Laura, share their thoughts about their journey to adopt Noah, 7, and Hannah, 4, in this first-person essay.
Adoption was always on our hearts. When things started getting serious between us and we started talking about marriage and family, adoption was something that we wanted to do. Initially, we tried for biological children first because of our ages. Then, our plan was to add to our family through adoption. However, as it turned out, biological children were not in the cards for us. After suffering through several miscarriages, our plans for adoption sped up. We were eager to be parents and excited to open our hearts and home to children who needed support.
We began learning more and more about adoption as we looked into all the options. We looked at private adoptions and adopting through foster care, including the advantages and disadvantages of both. We also researched different agencies. Throughout the search, we kept being drawn to the idea of fostering children. We finally decided that fostering to adopt will be the way we grow our family.
Then, it was time to find an agency to help us through the process. After researching many throughout the Metroplex, we chose Hope Cottage in Dallas to be our agency. We already had a ministry-related connection to them and learned about the compassion and dedication they put into their work. After meeting with them, we got the ball rolling on becoming licensed foster parents. It was not easy. There are many stages to fostering and the licensing process.
First of all is the initial paperwork that basically takes up an entire 3-inch binder. It is not a difficult thing to complete, but it is time-consuming. Then the trainings followed by a home study. (We are always willing to go into more detail with anyone interested.) It was intense and emotional at times when you lay out your life for someone to make the decision to approve you as foster parents. Hope Cottage was great, full of workers with wisdom, and helped us along the way.
Being a foster-to-adopt family has been a journey of peaks and valleys.
The biggest consideration when thinking of fostering to adopt is that the goal of Child Protective Services (CPS) is to reunite families. The biological family has the opportunity to get the help they need, and it is our job to keep the kiddos safe while that is happening. As much as we wanted to be parents to forever children, it was imperative to be open-minded and understand that the goal was reunification when it is safe and proper for the children. Being a foster-to-adopt family means you understand that and are still open to adopt the kids if it is not safe for the children to return. You love the children and provide for the children like they are your own, even when the reality is that they may never be your forever children.
We had a beautiful baby boy who came to us at 11 days old straight from the NICU. We had the opportunity to care for him for 2 months until he went to his biological grandmother. It was a blessing to know he was going to someone who would love him. It was also the most crushing and heartbreaking experience to take him back to the CPS office. However, we survived that just as we survived the multiple miscarriages. We had support from loved ones and endless prayers from our church and friends during that time. It was also important to grieve during our break from fostering. It is an unimaginable loss and is an incredibly unique experience. Not many people understand the experience and it was important to lean into our faith and one another during that time.
However, our journey has also had some pretty amazing highs. In late November, three years ago, we accepted a new placement. We were several hours away visiting family when we received the call. We rushed home to prepare it for a 4-year-old boy named Noah and a 21-month-old girl named Hannah. They walked through the door, and we had never seen such a cute little boy with dimples to die for, as well as an adorable and sassy curly haired little girl. We just fell in love with them immediately.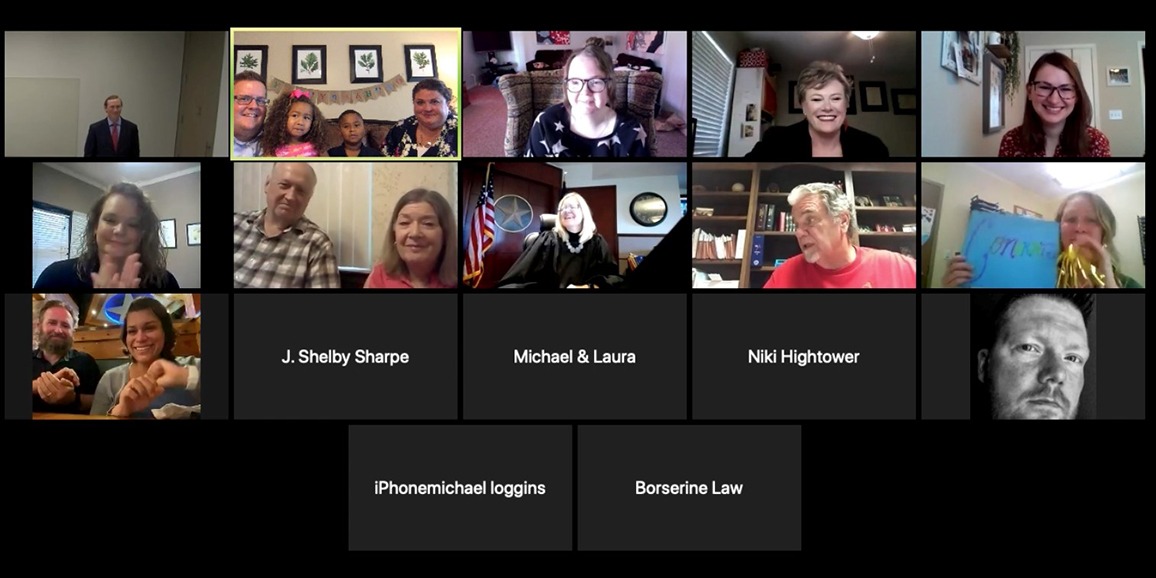 It was over 1,000 days after the initial placement to get to adoption day. It consisted of court dates after court dates. We were hearing a variety of stories from different case workers. It was thinking we needed to start packing them up, then the next day to be asked if we were still interested in adopting. Through it all, we had to focus on each day as it came. We were in the most important position to provide love, support and parenting to these children. We met bio parents along the way and developed relationships. We realized that the biggest thing we had in common with the bio parents is that we all wanted the best for these beautiful children. In the end, we all decided that the children will be our forever children.
This process challenged our relationship with one another. It challenged our relationship with God, but as with many things, also enriched our faith life. The foster-care system is flawed and things hurt at times. Our God is not flawed and is faithful. When we were short of faith, God was there to restore us.
We completed the adoption on August 21, 2020. It was different than expected due to COVID, and it was held on Zoom. Luckily, because of this, we had family from all over the world attend the hearing. Our children were able to see the many new members of their family who were so happy to celebrate the moment.
Fostering is hard and challenges you in ways you never anticipated. Even through the challenges, we absolutely loved being foster parents. It is worth it. It is worth it to see the children blossom. It is worth it when they reach milestones you helped them reach. It is full of blessings. If anyone is considering being a foster parent or looking into adoption, feel free to contact us. We want to help others on this path and support you.
Published: Wednesday, November 11, 2020