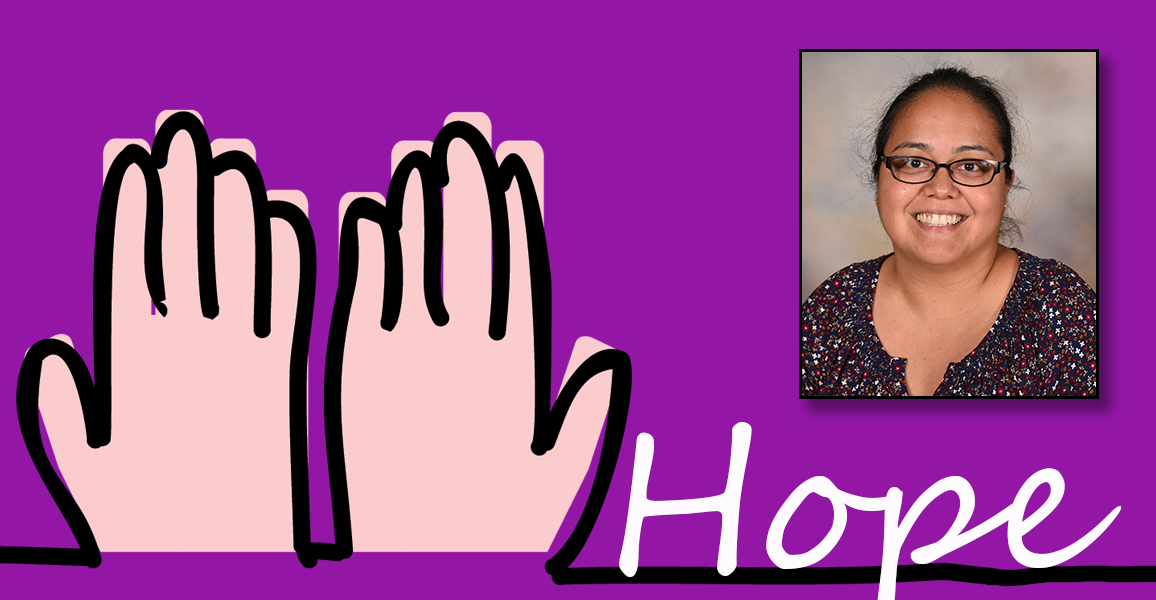 By Rev. Martha Valencia, senior pastor at Elmwood-El Buen Samaritano UMC
Growing up in a Spanish-speaking congregation surrounded by immigrants from Mexico and Central America, I remember singing a very popular and meaningful worship song. It is composed and sung by a Christian artist from Mexico named Jesus Adrian Romero. The song is called "Esperar en Ti." Translated, this means "To Wait on You." The Spanish word for Hope is Esperanza. It is derived from the word Esperar, which means to wait. So the song could also be translated to "To Hope on You."
Some of the song goes like this:
Esperar en ti, Difícil sé que es. Mi mente dice no, no es possible. Pero mi corazón, confiado está en ti. Tú siempre has sido fiel. Me has sostenido.
To wait (hope) on you is difficult I know. My mind says no, no it is not possible. But my heart, trusts in you. You have always been faithful, you have sustained me.
I heard this song today and immediately my thoughts went, on this Thanksgiving week, to the countless men, women and children I visited and prayed with at the Texas/Mexico border on a trip with fellow clergy. I thought of their plight and perseverance, of their despair in leaving their home countries due to the fear of violence, persecution and even death only to find insurmountable challenges in their journey to the border.
I thought of their hope, the hope of a better tomorrow for their children and families. The hope in their eyes when we reached them and prayed with them. The hope in sharing tent space with one another in an effort to make it just one more day in the hot, arid desert heat of the Texas/Mexico border.
The next portion of the song says:
Y esperaré pacientemente. Aun que la duda me atormente Yo no confío con la mente Lo hago con el corazón. Y esperaré en la tormenta Aun que tardare tu respuesta, Yo confiaré en tu providencia.
And I will wait (hope), even when doubt torments me, I do not trust with my mind, I trust with my heart. And I will wait (hope) even if the answer tarries. I will trust in your provision.
Matthew 2:13-18 narrates Mary and Joseph's own escape to Egypt fleeing violence, persecution and even death. "When they had gone, an angel of the Lord appeared to Joseph in a dream. "Get up," he said, "take the child and his mother and escape to Egypt. Stay there until I tell you, for Herod is going to search for the child to kill him. So he got up, took the child and his mother during the night and left for Egypt…"
This Advent season, I share in the words of this song with our brothers and sisters at the border, with those whom I met in the recent trip to Honduras with the Bishop and other clergy and with the Holy family this season.
Questions for Reflection:
This Advent season, what are you waiting (hoping) on God for in your life?

In your family?

In your church?
Questions for Family Reflection:
This Advent season, how might you share with your own children and families about our current crisis at the border and the power of hope?

How is hope manifest in Matthew's narrative of the Holy family's escape to Egypt and the hope (wait) of Christ's birth?